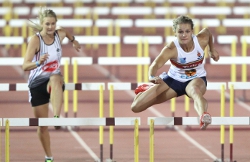 The Tuks runner Rikenette Steenkamp provided the biggest highlight of an explosive night at the Coetzenburg athletics stadium in Stellenbosch, when she won the 100m hurdles with a hugely impressive time of 13.48 seconds at the first meet in the new Varsity Athletics series.
Steenkamp brought the crowd to their feet when she crossed the line with the fastest time in South Africa since 2009. The twenty year old bettered her own personal best time and will now look forward to repeating that at the next meet, next Monday at the University of Johannesburg on the Highveld, where times are generally quicker than at the coast.
With the victory Steenkamp earned nine points for the University of Pretoria and played her part in helping her team to victory in the team competition.
Tuks collected a total of 135 points to beat the North-West University (Pukke). The team from Potchefstroom amassed 126 points.
Their big star was the national sprint champion Simon Magakwe, who won an exciting 100m race quite easily. The Potchefstroom student's time was indicated as 9.90 seconds, which improves the South African record. It won't stand though, because the time was measured by hand due to problems with the electronic equipment.
Long jumper Zarck Visser's had another good night at Coetzenburg, where he won the SA title on Saturday. He won the Varsity competition in the orange vest of UJ with a best jump of 7.81 meters.
Another UJ athlete who excelled was Jaco Engelbrecht, who won the shot put with a distance of 19.27 meters. That's more than three meters further than the 16.05 with which Kovsie athlete Ryno van Winkel finished second.
Wayde van Niekerk, who won his first SA title in the 400m with a time of 45.99 seconds on Friday, went even faster last night, winning nine points for Kovsies with a 45.89.
High jumper Leandri Botha also ensured nine points for Kovsies when she upset the new national champion, Bianca Erwee.
Botha took the title with a best jump of 1.75m. Erwee had to be happy with second place after a best jump of 1.70m.
 The women's 400m was won by Anneri Ebersohn (Tuks), with a time of 54.10. Hometown favourite Justine Palframan (Maties) came in second in 54.58.
Results:
Men's High Jump: 1. JVA Steytler (Kovsies) 2.11; 2. Garth Ellis (NMMU) 2.08; 3. Craig Canham (Tuks) 2.00.
Women's High Jump: 1. Leandri Botha (Kovsies) 1.75; 2. Bianca Erwee (Pukke) 1.70; 3. Chanell Range (UJ) 1.65.
Men's Shot Put: 1. Jaco Engelbrecht (UJ) 19.27; 2. Ryno van Winkel (Kovsies) 16.05; 3. Gerhard de Beer (Tuks) 15.55.
Women's Discus: 1. Maryke Oberholzer (Tuks) 55.93; 2. Ischke Senekal (NMMU) 48.26; 3. Eunice Olevano (Kovsies) 43.66.
Men's Long Jump: Zarck Visser (UJ) 7.81; 2. Willem Coertzen (Pukke) 7.51; 3. Francois Coetzee (Tuks) 7.49.
Men's 110m Hurdles: 1. André Storm (Pukke) 14.13, 2. Kobus Moolman (Tuks) 14.18; 3. Dylan Greyling (UJ) 15.06.
Women's 100m Hurdles: Rikenette Steenkamp (Tuks) 13.48; 2. Ansulet Potgieter (Kovsies) 13.68; 3. Mihandra Dorfling (Pukke) 14.74.
Women's 3000m: 1. Rosalyn Laurens (Pukke) 9:41.92; 2. Portia Ngwenya (TUT) 9:55.23; 3. Stella Marais (Tuks) 10:00.03.
Men's 100m: 1. Simon Magakwe (Pukke) 9.90; 2. Gideon Trotter (Kovsies) 10.10; 3. Akani Simbini 10.40.
Women's 100m: 1. Elzette Buys (Tuks) 11.94; 2. Melissa Hewitt (Pukke) 12.01; 3. Nabeela Parker (Maties) 12.12.
Men's 3000m: 1. Elroy Gelant (Pukke) 7:44.92; 2. Gladwin Mzazi (TUT) 7:56.86; 3. Dumisane Hlaselo (Kovsies) 7:59.31.
Women's Shot Put: 1. Sonia Smuts (Tuks) 15.46; 2. Biancka van Rooyen (UJ) 14.22; 3. Cecile Meyer (Kovsies) 13.05.
Men's Discus: 1. Donovan Snyman (UJ) 53.79; 2. Wynand Carstens (Maties) 53.55; 3. Ruan Murray (Pukke) 51.01.
Women's Long Jump: 1. Zanri van der Merwe (Tuks) 6.10; 2. Kelly Kingwill (UJ) 5.78; 3. Birdie Carstens (Maties) 5.78.
Men's 400m: 1. Wayde van Niekerk (Kovsies) 45.89; 2. Jacques de Swardt (Tuks) 46.27; 3. Jaden Flagg (Maties) 48.09.
Men's Mile: 1. Stephen Mokoka (TUT) 4:01.82; 2. Jerry Motsau (Pukke) 4:02.41; 3. Andreas Jeremy 4:02.69.
Women's 400m: 1. Anneri Ebersohn (Tuks) 54.10; 2. Justine Palframan (Maties) 54.58; 3. Arista Nienaber (Pukke) 54.62.
Women's 1500m: 1. Danel Prinsloo (Kovsies) 4:26.52; 2. Marlise Jordaan (Pukke) 4:26.70; 3. Mandie Brandt (Tuks) 4:29.30.
4x100m relay: 1. Tuks 42.97; 2. Pukke 43.46; 3. UWK 43.87.
Medley relay: 1. Pukke 3:29.20; 2. Tuks 3:31.98; 3. Kovsies 3:34.36.
Team points after the first of three Varsity Athletics meets:
Tuks                   135
NWU-Pukke       126
Kovsies              104
UJ                        99
Maties                  87
TUT                     70
NMMU                  63
UWC                    51
IMAGES taken by Gallo Images
FOLLOW US ON:
Website: www.varsitysportssa.com
Twitter: @varsitysportssa
Facebook: www.facebook.com/varsitysportsSA