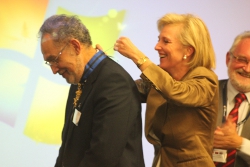 The Rector of the University of the Western Cape, Professor Brian O'Connell, received an honorary decoration from Her Royal Highness Princess Astrid of Belgium when a Belgian trade delegation visited UWC in an effort to explore new ways to link business and academia across the two nations.
On Friday 25 October 2013, HRH Princess Astrid presented Prof O'Connell with the title of Commander of the Order of Leopold for his tireless efforts in not just strengthening ties between UWC and Belgium, but also in raising the profile of UWC, and transforming it into the internationally respected institution it is today.
Johan Maricou, Belgian Ambassador to South Africa, explained why the Rector was chosen to be a recipient of this honour. "When Professor O'Connell receives this award, it is not only because of his impressive achievements as the head of this university; more than that, it's because of the kind of leadership he represents. His leadership is informed by vision and engagement – he is the kind of VC who leaves his office and talks directly to the students. He is a true humanist, and he has succeeded in bringing to UWC, and Africa, a commitment to the cause of human advancement."
Prof O'Connell explained that the long-term partnership with Belgium had brought many benefits to students and staff alike, extending and enhancing the global reach and reputation of all parties. "The collaboration between UWC and our Belgian partners began more than 10 years ago, when the University's future was uncertain in many ways. The collaboration has helped the University achieve extraordinary successes and academic achievements. It has opened so many doors and networks, showing that we are stronger together than apart," he said.
The princess and the Belgian delegation were attending a seminar held at UWC that elaborated on these sentiments, exploring new ways to boost innovation, link business and academia, and create opportunities for students and academics from both countries.
The seminar's panel discussion was on "Linking Business and Academia through Mobility and Innovation: Celebrating Academic Mobility between Belgium and South Africa". Well-travelled academics from UWC, the University of Cape Town, Cape Peninsula University of Technology, Ghent University, to name just a few, highlighted the importance of international mobility in universities for the careers of graduates, as well as the societal and economic benefits these mobile graduates could bring.
Issued by: Rothko on behalf of the University of the Western Cape. UWC029
Contact: Zenahrea Damonn. [email protected]. 021448 5941.