University of Johannesburg (UJ) student success rate increases steadily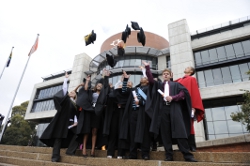 The University of Johannesburg (UJ) has seen a steady growth in its student success rates.
The University, which set a goal to progressively improve the graduation rates of undergraduate and postgraduate students, has achieved this with its 2012 output.
The University's overall student success rate grew by 2,2% from 79.2% in 2011 to 81.4% in 2012, making the 2012 achievement the highest since 2008, which had an achievement of 76.6%. The undergraduate student success rate was up by 2.7% from 79.4% in 2011 to 82.1% in 2012. Undergraduate first-time entering students' success rate improved by 3.5%, from 76.5% in 2011 to 80.0% in 2012, mainly due to better selection of first time entrants and the University's First Year Experience Programme, introduced in 2010 aimed at easing the school-to-university transition.
The total graduates for this year's first graduation series is 7 825 bringing the total output for 2012 to a pleasing 11 323, resulting in an admirable graduation rate of 23.2%.
"Many factors are driving UJ's growing success," says Prof Ihron Rensburg, Vice-Chancellor and Principal of UJ. "Given that quality education remains vital to national and global prosperity, these results are an important indicator of the stature of a university. This, in turn, has complemented the strategic direction of UJ, which has positioned itself as an important player in the higher education arena, both locally and internationally. Since its establishment in 2005, the University has already climbed 1 000 places in the global rankings of universities. UJ now ranks in the top 3% of (some 40 000) academic institutions globally and our position in these rankings will continue to rise as we move ahead towards the teaching, learning and research goals we have set for ourselves."
He added that UJ has also made its mark on the research front where the university more than doubled its research outputs in just five years, well ahead of the university's ten-year plan. "UJ's academics are leaders in their respective fields and disciplines, as reflected in the phenomenal growth of our rated scholars, up from 67 to 115."
Prof Rensburg concludes: "The excellent results are testimony to the dedication and hard work of our academics and the First Year Experience Programme. By involving the entire University in this programme, the transition into higher education becomes deliberately invitational, with the goal of ameliorating the rates of dropout typically experienced during the first year at university. Going forward, and in full pursuit of our vision, UJ will continue in the next decade to position itself as a modern African city university, which is cosmopolitan in character, and asserts academic freedom in the liberal, progressive and transformative values it espouses. It will provide education that is affordable and accessible, that is challenging, imaginative and innovative and contributes to a just, responsible and sustainable society."
Article issued by University of Johannesburg