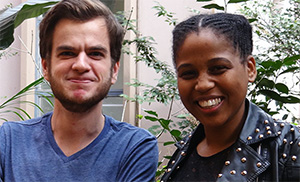 Two postgraduate students from the School of Built Environment and Development Studies (BEDS), Ms Amanda Mthembu and Mr Simon Halvey, have returned from a month-long intensive course on survey research techniques at Michigan University in the United States.
Funding for their visit was arranged by Professor Dori Posel, the SARChI Chair in Economic Development.
Mthembu, who is doing a Masters degree in Population Studies, said it had been a great experience. 'I've never learnt so much in a short space of time, and I got to meet authors of books that I have read.'
Masters Development Studies student Halvey agreed, saying the vastness of the University and the facilities were "out of this world". 'The standard of teaching is amazing. The course so intense and we learned so much.'
They were the only students on the course with the others being working professionals from a variety of countries.
They felt the tools they had acquired would help them not only in research for their dissertations but would be useful in their future careers.
The students were grateful to Posel for arranging and funding the visit in her capacity as SARChI Chair of Economic Development. 'We can never thank her enough for this once in a lifetime opportunity.'
They were both impressed with the range of facilities of the University, Halvey particularly by the vast football stadium which is one of the largest in the United States, and Mthembu by how safe it was to work at the 24-hour university library where it was possible to use the complimentary taxi after studying late.
Article issued by UKZN