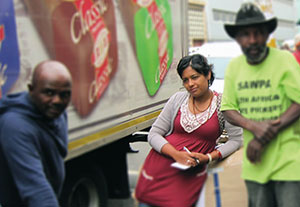 UKZN Masters Graduate among Top 200 Young South Africans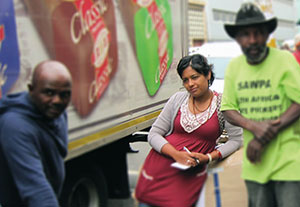 When told she had been selected as one of the Mail & Guardian's Top 200 Young South Africans for 2013, the first thing Iran-born Bangladeshi Ms Tasmi Quazi asked herself whimsically was: 'Does this mean I really am a South African?'
Quazi is a Masters' graduate in Development Studies at the School of Built Environment and Development Studies and a Research Officer of the local NPO, Asiye eTafuleni (AeT).
Her family has lived and served in South Africa for 19 years. 'This is the longest my family has resided in any country outside of Bangladesh and it has developed in us, and earned us, a sense of South African citizenship. This is because my entire family have integrated and developed a strong sense of service through our respective careers within our local communities and with hopes of broader societal impact.
'At the personal level, the recognition has therefore come as affirmation for not only me, but my whole family.  The passion – for service and learning, in our case – is indeed contagious, and "home" is where you serve,' said Quazi.
Throughout her years of formal education, she kept a passion for serving the excluded and marginalised in society as part of an unyielding desire to address troubling socio-economic inequalities which have plagued many countries Tasmi has lived in or travelled to.  Her undergraduate studies were in Architecture and Interior Design, before she took up an internship at East Coast Architects.
Thereafter, she enrolled for the masters' programme in Development Studies, at the School of Built Environment and Development Studies, UKZN in which her thesis explored municipal approaches to the informal economy by comparing the dynamics between a secondary city and a town.
It was also during this time that Tasmi was exposed to a wide range of research projects as practical learning opportunities offered by her lecturers.  These included an internship opportunity to work with the eThekwini Municipality's Imagine Durban Project, which provided vital insight for her into local government processes and sustainable urban planning.
Speaking about her future plans, Tasmi said: 'I would love to continue to contribute to innovative and ground breaking research and implementation work within the development sector. It really depends where such opportunities present themselves in the future, whether through continued service at AeT is possible though the next round of secured funding, or alternatively through a PhD or government service.'
Article issued by UKZN