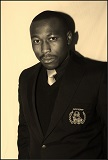 Rendani Gregory Tshivhula, a 23 year-old Corporate Communications student at the University of Johannesburg (UJ), has acquired a USA leadership scholarship after a well-executed presentation on leadership at an American Council of Young Political Leaders (ACYPL) event, hosted by the University.
Tshivhula overwhelmed the group of American delegates with his presentation and they offered him the scholarship. The scholarship, under the United States diplomatic mission to South Africa, will cover, amongst others, the cost of tuition, fees, books, and accommodation. This scholarship accentuates UJ's relationship with the USA and their interests in Pan-African partnerships. Recently, USA President Barack Obama held a Pan-African Town Hall event at UJ's Soweto Campus to engage with young African leaders.
Tshivhula, who hails from Capital Park in Pretoria, still needs to decide what programmes he would like to pursue and at what American university.
"I am very honoured to have received the scholarship," says Tshivhula, adding that he intends to pursue a programme that will further empower him in the fields of Leadership, International Relations and Diplomacy as well as Media Relations and Audio Visual Studies.
Tshivhula, who honed his leadership skills as the Chairperson of the University's Oppierif Men's Residence and Prim Council, says: "It would not have been possible if it were not for the exceptional lecturing staff at UJ and all the support I received from the University. The University molded me into the confident person I'm today. I'm proud to be associated with an institution that continues to give students opportunities to gain further experience in leadership  development.
Article issued by University of Johannesburg