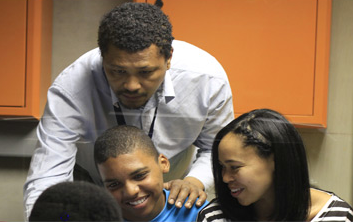 Open to all youth between the ages of 13 and 18 years, the Sci-Bono Clubhouse is an innovative technology programme that provides youth with exciting opportunities to learn about Animated Graphics (making pictures move), Video Editing, Photoshop (Image manipulation) and Music Production.
Linked to the international Intel Computer Clubhouse Network, the clubhouse provides an excellent opportunity for young people to gain technology skills critical for personal and professional success in the 21st century.
The clubhouse is open every weekday afternoon and provides a safe and supportive environment for young people to make constructive use of afterschool time while exploring their own creative expression.
Participants are welcome to join the programme any afternoon and can expect to gain:
Hands on experience with high-end professional hardware and software
Technical fluency
Skills and self-confidence
Exposure to study opportunities in Graphic Design and Music learning institutions
The Clubhouse also runs full day programmes during the holidays. Please contact Clement or Innocentia on 011 639-8473 for more information
Article sourced from http://www.sci-bono.co.za/y_adults/Clubhouse.php