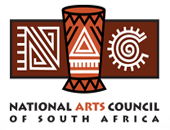 The National Arts Council hereby invites individuals and registered arts organisations in the performing arts (theatre, dance, music and multi-discipline) to submit their applications for project funding.
Applications are invited for projects of national significance that are involved in the creation of new works, arts development, arts promotion, facilitate access to the arts and markets. Furthermore, applications that have a strong community base and have been conceived in collaboration with others working in similar fields will be preferable. Projects that celebrate the 20 years anniversary of freedom and democracy are also encouraged to apply.
Please note that projects involved in Literature, Visual Arts and Crafts will be invited during the course of the year.
Post-graduate students wishing to pursue arts studies abroad in the fields of Craft, Dance, Literature, Multi-discipline, Music, Theatre and Visual Arts are also invited to apply.
Students willing to access NAC funding should be prepared to return to and work in South Africa to support the development of the arts in the country.
Conditions For Acceptance Of Applications:
All relevant sections of the application form must be filled in completely;
All requested documentation must be submitted with the application form;
Applications must be submitted on or before 28 February 2014.
This invitation is also open to arts organisations and individuals that support the involvement of women, youth and people living with disabilities.
Please note that late and incomplete applications will not be considered at all and no exceptions will be made.
Application forms and funding guidelines are available from the National Arts Council office or can be downloaded from www.nac.org.za.
For more information, contact the Arts Development Officers at the NAC office.
Submit applications via post or courier to:
Physical Address:
66 Margaret Mcingana Street
Newtown
Johannesburg OR
Postal Address:
P O Box 500
Newtown 2113
Johannesburg
Closing date: 28 February 2014
Outcomes date: 31 May 2014