The 2013 Future Star is an Achiever!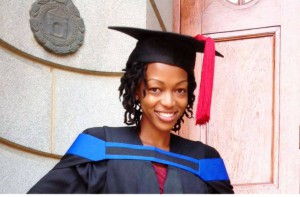 My entire life is based around my personal mission statement: "Do not limit yourself due to others limited imaginations". Throughout my life I have always prided myself as being hardworking and devoted to every endeavour I pursue. I am a determined achiever, opinionated and a bit of a perfectionist. Education has always been an important aspect in my life. I have always strived for academic excellence and always wished to make the most of my education. With that said; I have recently graduated with a Bachelors of Science in Biochemistry from the University of the Free State.
Because "Argo's Future Stars Awards aims to support achievers, to motivate them to believe in themselves and in educations power to help them achieve their dreams", I believe that these sentiments resonate well with me. Holding the 2013 Future Stars title has boasted my confidence and afforded me high influential capacity.  Future Stars has also taught me to exploit every opportunity that comes my way, thus I used Future Stars as leverage and I did not limit myself to the scope of networking. Networking has opened endless possibilities for me. Having had conversations with successful entrepreneurs and professionals has kept my intellectual juices flowing. In my time of being Future Star, I have learned, achieved and grown as a person.
Today my perception of life is the process of becoming. My parents, teachers, mentors and friends have all contributed to experiences that have shaped me. I will forever be grateful for individuals that have helped cultivate and bring out the person that I am.
I'm currently pursuing postgraduate studies in Biochemistry (Extreme Biochemistry) with an extensive interest and research in biological solutions for environmental problems. I am confident that this will allow me to become an innovative professional while accomplishing my goals.
You could be the next Future Star, all it takes is a Dream it, Believe it, Do it attitude. Enjoy the freedom of setting your own trend and hold strong to your dreams.
For more information on 2014 Future Stars Awards, visit the Competitions Page and click on Future Stars.
Keep up with this campaign by following us on Twitter: @FutureStarsSA and join in on the conversation by using #DreamItBelieveItDoIt
Follow Reitumetse Molaoa on Twitter: @TumZA_Molaoa to keep track of this Future Star!