Student pass rate increases by 4% – From humble beginnings of coaching and mentoring students to an Academic Excellence Office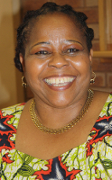 The pass rate of students at the Faculty of Management Sciences has increased by 4% from 68% to 72% in the past two years. This is as a result of the success of an academic excellence intervention programme that started in 2011.
The academic excellence intervention, together with a sustained coaching and mentoring programme for the readmitted students who had been excluded from registering, has also resulted in a 50% reduction in the number of appeal forms submitted to the Faculty in 2012.
 "My passion is students, my office is a boardroom, my classroom is a research hub and my goal is the success of students." This is the passionate declaration by Minky Seromo, who was appointed as lecturer and student coach in 2011, to mentor and motivate students to improve their academic performance.
Minky, a professional coach, qualified teacher, mentor, brain profiler and former Fulbright Scholar with more than 20 years of corporate experience, explained that the concern of the Dean of the Faculty of Management Sciences, Dr Edgar Nesamvuni, about the high failure rate led to an urgent intervention. His proposal for a post for a student coach was accepted by the Senate and Minky, who, at that time, was coaching students in addition to her regular lecturing job, was appointed as full-time student coach and mentor at the Faculty.
"This is an important intervention," Minky said. "In my experience many students fail because they become despondent and lose interest when they struggle to master the subject content." She explained that the student coaching intervention is largely based on giving students self-confidence and motivating them. "Most of the students in the programme want someone to talk to, who will listen to them and who can show interest and attempt to solve their personal or academic challenges," she said.
According to Minky, her focus is mostly on students who were academically excluded and reinstated for study based on their general academic progress. "Every year I extend an open invitation to all these students to attend my "A" Student Workshop. The purpose of the workshop is to motivate them and to rebuild their self-esteem and confidence.  It takes place at the beginning of the year and I give them all and "A".  They then have to write me a letter on why they deserve an A, which forms part of building up their self-confidence. At the end of the workshop they sign a contract with me in which they commit to being successful in their studies throughout the year. "
In 2012 about 250 of the 700 students who were readmitted for study attended the workshop and they all passed all their subjects.
In addition to this, Minky hosts special tutoring workshops on Saturdays. "Although students must attend class for at least four days during the week to qualify for the coaching class, the Saturday class has become extremely popular. Even first-year students from different departments now attend the extra classes," she said.
She says the Dean is very involved in the project and addressed the students at the start of 2011 and 2012, explaining to them the importance of attainable goals. In view of this, he has advised them not to register for more than five subjects per study term, to give them more time to work through the course content of challenging subjects such as Accounting, English and Communication.
"We have refined the intervention to the extent that excluded students who were readmitted in 2013 could only register after signing an agreement to meet the conditions attached to their reinstatement. These include only registering for the recommended subjects; that they will not be absent from any lectures; that they will attend all recommended tutorials and that they can be referred to Student Development Support for assistance, should the need arise," Minky continued.
Minky chuckled when asked how close she was to ensuring that the success of the intervention programme could be duplicated throughout TUT. "Following discussions between the Dean and campus directors, this service was extended to the Polokwane, Mpumalanga and eMalahleni campuses at the beginning of 2013."
She added she is currently sharing her experience with the Faculty of Engineering and the Built Environment, who also came on board this year with the introduction of a similar programme to monitor the progress and improve the success rate of students.
The success of academic excellence intervention has resulted in a grant by the Department of Higher Education and Training to support the programme in 2013.
For more information on TUT, click here
IMAGE 1: Minky Seromo, Academic Excellence Coach at the Faculty of Management Sciences.