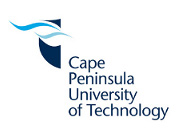 Student Innovation Competition
SLEEP EASY: A woven baby sling and hammock (pictured), is just one of the inventions that came out of last year's CPUT Idea-Create Student Innovation Competition
CPUT students are being urged to think out of the box and take part in the 2014 Idea-Create Student Innovation Competition.
The competition has been running for the past two years and so far has uncovered some of CPUT's most innovative students.
From last year's entries, three patents were registered and the ideas of six students have been turned into products, says competition coordinator Halimah Rabiu.
"This competition is a great opportunity for students," she says.
Hosted by the Technology Transfer Office (TTO), the competition challenges students to come up with new products, services or business plans.
Rabiu says it's the ideal platform to help budding innovators turn their ideas into successful products and to help students start their own businesses.
Those who enter are invited to attend a series of workshops presented by industry experts, who will share tips on innovation and how to start a business.
Thereafter students will have to submit their business plans to the TTO, with the finalist afforded the opportunity to pitch their ideas to a panel of industry experts.
Rabiu says students who manage to come up with the best ideas will walk away with cash prizes and a once in a lifetime opportunity to commercialize.
The competition will be launched early next month.
Queries can be directed to Halimah Rabiu at [email protected]