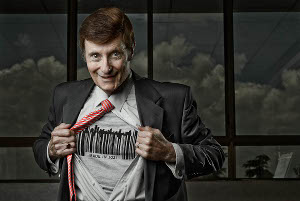 Cape Town – With a simple hand salute and goodbye wave, a visibly emotional Riaan Cruywagen – after 37 years the longest continuing presence on South African television and TV news – signed off and said goodbye to millions of viewers on SABC2 at 19:00 during the Nuus om 7 on Monday evening.
"My task is completed. Tonight, exactly 37 years after reading my first TV news bulletin, I'm retiring," said the dapper newsman, dressed in a black pinstripe suit with a red-and-white striped tie and matching red hankerchief; his hair as perfectly coiffed as ever.
"My heartfelt appreciation goes to the Afrikaans news editorial staffs who, over the decades, I've been privileged to work with – in the most recent times my bulletin editors Sandy Macdonald and Monica Ribbons, my executive director Kenneth Makatees and my pillar-of-support boss, Jimi Matthews."
"You know, TV news is a massive team effort, and I was just the ears of the hippo which stuck out. To you, the TV news viewers, thank you that you, over so many years, allowed me into your homes. For me it was an exceptional privilege and when I look back, it was all just grace. For the very last time, goodbye. Good day," he said as he lifted his right hand and made a goodbye wave and hand salute to viewers.
TV tribute and farewell brunch
Riaan Cruywagen's sign-off at the end of the bulletin was suddenly followed by an hour long retrospective TV special on SABC2 neither viewers nor shocked TV critics in the country knew about beforehand.
The special looked back at Riaan Cruywagen's storied career as a news broadcaster and his stay at the SABC 2 which spans 47 years in total.
At a farewell brunch in Sandton on Monday morning the SABC 2 presented Riaan Cruywagen with a special plaque.
Prof Pippa Green, SABC board member said: "Riaan thank you for all of your years of loyalty, support and service to a public broadcaster which is not always the easiest place to be but is probably one of the most important places."
Hlaudi Motsoeneng, the SABC's acting chief operating officer (COO) said: "I think you have done a wonderful job for the SABC. The way you dress, the way you talk to people – you're a human being. You lead by example."
'I never became involved in politics'
Jimi Matthews, the acting head of news and current affairs at the SABC said: "Now we're going to have to get used to South African television news without Riaan Cruywagen. And it's quite a strange notion; quite a strange feeling actually.
"His contribution to broadcasting, not only to the SABC, but to broadcasting in general has been immense. Riaan's legacy in the news room will always be his commitment to his craft, his dedication, his professionalism. And for me I think it was a huge honour to work alongside someone like Riaan."
Sandy Macdonald, the editor for Afrikaans TV news on SABC2 said: "I think he played an enormous role to make Afrikaans cool again."
Bessie Tugwana, SABC2 channel head, said: "For SABC2 I want to express our pride and profound gratitude that he has stayed this long. And not just staying long, he has brought professionalism to the news reading and some kind of believability.
"As you know there are three bulletins at 19:00, every day except weekends. Those bulletins are English on SABC3, English on e.tv, but the Afrikaans news bulletin has always attracted more audiences. That for us is testimony that he sustained that in his community. I think as a channel he has also given the channel, the brand SABC2, credibility."
Chriselda Lewis, SABC TV reporter said: "Riaan keeps looking the same way that he did so many years ago. I still need to find out how he achieved that. He doesn't have any gray hair. When you try and look for wrinkles on his face you can barely find them."
"He appeals to so many people across the colour line. That is just amazing."
"I always remained a career broadcaster," said Cruywagen at the brunch. "No matter who was in charge of government or at the SABC, I remained true to my profession and nothing else. I never became involved in politics – neither external nor internal – and I made it my duty to present the news in an unbiased, non-partisan and objective, credible and authoritative way."
Article source: Channel24
Riaan Cruywagen's awesomeness!