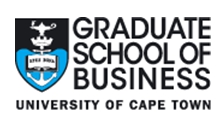 It is not impossible to gain a basic financial understanding of business and this could make the difference between success and failure for an organisation, says veteran instructor Colin Firer at the UCT Graduate School of Business.
"What would you think of a physician who couldn't read x-rays or lab reports, or a conductor who couldn't read music?" says Colin Firer programme director of Finance for non-Financial Managers at the University of Cape Town's Graduate School of Business (GSB). "For someone involved in business – any kind of business and in any department or sector – a lack of basic financial literacy could be just as dangerous."
Firer says that many entrepreneurs, small business owners, and members of larger organisations are holding themselves and their organisations back because they are unable to understand the basic language of finance. "Stability and financial health are more important than ever, at a time when businesses need to be aware of every financial nuance in order to have any competitive edge.
But the need for non-financial personnel to understand financial statements and financial jargon is often not actualised, and businesses suffer as a result," says Firer.
According to Firer, even basic financial literacy can help identify possible 'red flags' in a company's financial situation: "If you want to know why your income statement shows a profit but all you have to show for it is an overdrawn bank account, you need to empower yourself by understanding some basic financial principles."
For some reason, finance, like maths, seems to strike fear into the hearts of many people, but it doesn't have to be that way says Firer, who, for over 10 years, has directed a programme on the UCT Graduate School of Business that seeks to give non-financial people in business a basic financial toolkit.
 "Over the years we have perfected the art of making the language of accounting and finance accessible and easy to understand," Firer says. "Delegates are taught how to read an organisation's financial statements and explore their meaning. They are given the tools to analyse cost behavior and financial performance; will participate in creating a financial plan; and they will gain the knowledge and confidence needed to contribute to creating value within their organisation."
No prior exposure to accounting or finance is necessary in order to benefit from this type of education, says Firer. The course is specifically designed for non-financial people from any sector, those responsible for meeting budgets and containing costs, and for anyone wanting to understand the key drivers of performance in organisations.
He adds that it is very gratifying to see the light of understanding dawn on the face of delegates on the programme – many of whom come without knowing the difference between a creditor and a debtor.
"But they leave with a fairly sophisticated understanding of how the ebb and flow of finances within an organisation can make or break it. Instead of a mass of incomprehensible numbers on a spreadsheet – they can read the story that these numbers are telling."
"Those who gain an understanding of the language of finance will be better able to engage with financial professionals and appreciate their points of view," he says. "They will also be better able to examine the financial health of an organisation, identify problems and inefficiencies and contribute towards improving financial performance.
They may not be quite ready to conduct the entire orchestra all by themselves but they will certainly be able to spot when things are not going quite as they should be."
The Finance for Non-financial Managers Executive Education programme at the GSB runs in May and again in October at the UCT Graduate School of Business. For more information, contact (021) 406 1238 or email: [email protected].  
For more information on UCT Business School