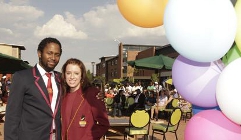 The one implies dreams of victory; the name of the other means 'bringers of honey' in the Khoisan language.
With these unique names, two new residences, House ConLaurês and House Outeniqua, will create new memories for generations of Kovsie students. The two residences were officially opened on the Bloemfontein Campus of the University of the Free State, bringing the number of junior residences on the campus to 19.
Celebrating the new addition to residence life, Mr Quintin Koetaan, Director: Housing and Residence Affairs, told residents of House ConLaurês and House Outeniqua that they were part of history. He told guests that the residences will provide accommodation for a new generation of students and encouraged residents to breathe life into their respective abodes.
"Nobody thought that two residences could be built in a year," he said about the short time between the planning and opening of the residences in January this year. The two residences welcomed 250 students each, with male and female students living under one roof, but in separate units.
Prof Jonathan Jansen, Vice-Chancellor and Rector, praised Koetaan and his team, as well as the developers, saying they have done something completely different on the campus. He said the two residences will create a place which students can call home. "It will create a place not just to eat and sleep, but also to learn. It will create memories for many years to come."
Mr Rudi Buys, Dean: Student Affairs, said House ConLaurês and House Outeniqua is much more than simply residences. "It's about the university putting its heart out there, showing what can be done." He told guests that representatives from other universities and the Department of Higher Education and Training have visited the UFS to see what is being done here.
IMAGE: Celebrating the official opening of the two new residences, were Vusumzi Mesatywa, Prime of House Outeniqua and Sherilyn Roelofse, Prime of House ConLaurês.
Article source: University of the Free State