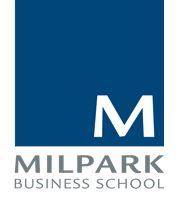 Milpark Business School
, private provider of
tertiary qualifications
in
commerce
, will launch two new qualifications in
2013
– a
Bachelor of Commerce (B. Comm.)
and a
Higher Certificate (H. Cert.) in Office Administration
.The
B. Comm.
and
H. Cert. (Office Administration)
are designed to provide
school-leavers
with solid
qualifications
relevant to a wide range of
careers
in
commerce
. Adding these to the existing BBA degree contributes to meeting the urgent
skills
requirements of the
South African business sector
.
Geared for specific careers
"With the B. Comm. we are equipping
graduates
with business fundamentals in
commerce
,
law
,
finance
,
accounting
and
banking
thus paving the way for
undergraduate
and
postgraduate
specialisation if they wish to take their studies further," says Esther Venter, executive dean at
Milpark
. "Most importantly the
B. Comm
. is geared for specific
careers
– our specialisations in banking or financial planning equip
graduates
with the essential
skills
for starting out in these sectors."
The
Higher Certificate in Office Administration
is designed to equip
school-leavers
with the
skills
needed to work in a variety of administrative contexts.
Matriculants
interested in the administration and day-to-day administration of a business will find this qualification the perfect tool to jump-start their
careers
.
Choice of specialised module
Students who choose the
Higher Certificate
will study a range of subjects addressing areas critical to administration including business practice,
business law
,
computing
and communication.
Milpark
also offers
candidates
a choice of a specialised module that provides more focused knowledge in a particular area of administration – financial services,
legal
, accounting or public sector administration.
Milpark
offers various learning options from
full-time
contact learning to
part-time
and
distance learning
. "Modern academic institutions have to be flexible and responsive to the circumstances and needs of their
students
. Our courses are offered in modules and the various modes of delivery to enable our students to earn while they learn, if they can't afford to
study full-time
, or if they want to improve their
skills
without leaving their jobs," says Venter.
Milpark Business School
operates from two teaching sites in Johannesburg and Cape Town, and has a sales and support office in Durban.
Article by
Bizcommunity