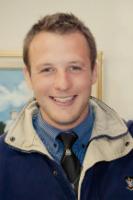 Rhodes University Ergonomics student Tyron Louw has been awarded a prestigious scholarship – the Leeds International Research Scholarship (LIRS) – to study towards a PhD in 2014 at the University of Leeds in the United Kingdom.
After a rigorous application process and being offered a PhD position at the University of Leeds in 2012, Louw's next move was to pursue his next dream and apply for a scholarship in order to attain his academic goals.
"The Leeds International Research Scholarship is open to applicants from any country and discipline in the world. After collecting all applications, the University screens for eligibility and then submits them to the relevant academic departments who are given the opportunity to nominate only one candidate each from their pool of applicants," he says.
"What makes this process tough is that you are competing against some of the most talented students from around the world, from every discipline imaginable. The LIRS is very heavily focused on academic merit and, specifically, research potential. I had to in my application demonstrate the relevance of my research, and my ability to carry it out," says Louw.
He always wanted to study at Leeds and he followed his dream throughout. He turned down a funded PhD at Rhodes University and a scholarship to University of Nottingham.
"I didn't know whether I was even close to winning the LIRS. I only knew that I wanted to be at Leeds. During this time I simply kept my head down and worked hard at the things that I thought would demonstrate to the University of Leeds that I was capable and worthy of LIRS," he adds.
"I have known for a long time that I wanted to do PhD. It is a massive undertaking and a huge investment in oneself. I always held the view that if I was going to make such an investment in myself then it should be in an environment that supports both my research and career interests."
"The Institute for Transport Studies (ITS) at University of Leeds is a world-leading center for the application of many different disciplines to transport. It is home to one of the worlds most advanced driving simulators, and is well connected to industrial and research partners the world over. My research interests are conveniently very much aligned with those of the Safety & Technology group at ITS. Leeds was therefore an obvious first-choice for a PhD."
Louw passed his Bachelor of Arts in Human Kinetics & Ergonomics and Organisational Psychology and Bachelor of Science with Honours degrees both with distinctions at Rhodes University.
He further enrolled for Master of Science (Research) in Ergonomics. The title of his dissertation is An Investigation into Control Mechanisms of Driving Performance: Resource Depletion and Effort-Regulationand he graduated with distinction in 2013.
"The future is here. Driverless cars exist and they will be on our roads sooner than any of us can anticipate. This is a laudable achievement on the technical side, however relatively little is known about how humans will function in these cars," he says.
His PhD research at the University of Leeds will focus on trying to get a better understanding of the human physical and cognitive capabilities and limitations during interactions with automated vehicles.
"The staff and postgraduates in the Department of Human Kinetics and Ergonomics have been hugely influential in shaping my understanding, appreciation, and philosophy of research," he says.
Head of Human Kinetics and Ergonomics, Dr Candice Christie wished him all the best for the future.