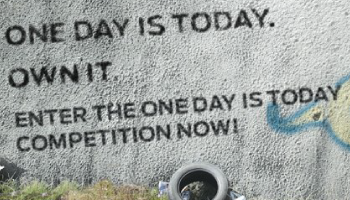 How To Win a R15 000 Eduloan Bursary Loan
Today is the day to build your dream, says Eduloan
South Africa, though not a nation of wealth, is one of hope – a characteristic that is best illustrated by the popular expression of 'one day is one day'. South Africans from all walks of life often use this saying to express hope that one day a particular dream or aspiration will come true. But too often, that "one day" when our dreams come true is not seen as part of our present reality.
Education financier and bursary administrator Eduloan has launched a new campaign to challenge this thinking. Our mythical 'one day' is actually today, according to the campaign, which presents an open letter that aims to rally South Africans to change and become proactive masters of their destinies.
For the brief, Eduloan instructed its advertising agency Action Ambro's come up with a campaign that will truly resonate with all South Africans. Called 'One day is Today", the campaign tells us the time for excuses is over. It is up to us to stop dreaming about the mythical "one day" and grab opportunities today to ensure a brighter future for ourselves, our families and our nation as a whole. Sometimes we don't realise that the opportunities we dream of are within our reach. Sometimes we all need a nudge in the right direction.
Both agency and client had to embark on a journey of introspection to understand the true nature of South Africans – and the conclusion was that we are a nation of hope.

"Diverse as we are in our cultures, the golden thread that unites us is our willingness to fight for our dreams, regardless of who we are, where we come from and what our circumstances are. The truth is all South Africans who have succeeded have done so because they looked beyond their circumstances and focused on the future," says Michelle Branco, chief commercial and marketing officer at Eduloan.
"With this campaign, we want to start a movement of doers, and not just dreamers. We want to inspire our nation to look beyond the obstacles and instead focus on the possibilities."
The commercial features respected actor Ernest Ndlovu reading an open letter or manifesto to South Africans. He emphasises that the time for excuses is over and that the mythical 'one day' that South Africans like to talk about is in fact today. One day is no longer about the future, one day has already dawned and today is that day. Today is the day that as South Africans we can choose to thrive instead of just being alive.
We can make use of opportunities available, including access to quality education if we want to make our dreams come true.
"You are willing to strive for a better future – you want to learn more, you want to be educated, you want to have more – for yourself, and for your loved ones," reads the open letter. "So… it's not your fighting spirit or ambition that fall short, South Africa. What lacks is that you think you don't have the opportunities you need to succeed. One day, South Africa, you will realise that you have every opportunity to define your own success. You will stop looking for reasons not to try, and recognise that if you want to be more, do more and achieve more… education can make it happen."
According to Branco, the campaign is intended to act as a catalyst to get South Africans from all walks of life to recognize the importance of education. This is the first time in recent years that Eduloan has embarked on a marketing campaign of this scale.
Says Branco: "The reality is that the first step to achieving any goal in life is to make sure you are skilled and employable. As part of this process, we also had to reflect and remind ourselves why we exist. Eduloan exists because we unlock South Africa's potential. We provide access to truly affordable financial means to acquiring an education, and to help people fulfil their dreams of bettering their lives. We are in the business of making such opportunities a reality for all South Africans."
The campaign went live on June 25, targeting the high school learners, tertiary students and working professionals who make up the bulk of Eduloan's beneficiaries. It will be released on social media platforms such as YouTube, Facebook and Twitter, and will also be sent to prominent bloggers for review. The advert will be flighted on Metro FM, which boasts over 4 million weekly listeners, and will also appear in mass market publications such as the Sunday Times, Sunday Sun, Sunday World and City Press. On-campus activations and street pole advertising close to major universities will further drive the campaign.Using the power of transit media, the advert will also be broadcast inside 450 buses and 225 minibus taxis that have TV screens.
Eduloan will ask its Facebook followers to nominate themselves or deserving friends for the chance to win a R15 000 bursary or an iPad2, in order to further their studies.
"The effectiveness of a campaign depends on whether they are able to capture people's attention or imagination, and inspire conversations and hopefully a change in behaviour. That is what we are hoping for, that South Africans start talking about the need to invest in their education and take charge of their destinies," Branco concludes.