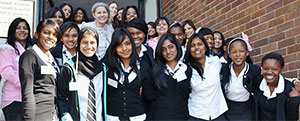 Guidance for Success as Health Scientists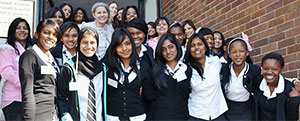 Fifteen Grade 11 girls from KwaZulu-Natal's disadvantaged Tongaat Secondary School recently spent a day at UKZN as guests of the College of Health Sciences (CHS) where they were given guidelines for success as young, aspirant health scientists.
The CHS Women in Leadership and Leverage (WILL) committee invited the learners onto the medical campus for the annual: It's My Future day, which was again a resounding success.
Spending the entire day interacting with local and international women role models who have achieved within various healthcare professions, the learners were also privileged to engage with young and seasoned researchers during onsite visits to the Anatomy and Physiology Laboratories, CAPRISA and K-RITH.
Most importantly, the day's comprehensive programme assured learners that exceptional academic performance would enhance their chances to secure a place to study in programmes offered by the CHS.
Professor Irene Mackraj, WILL Committee member and coordinator of the day's outreach endeavour, said the event was held this year to promote the development and growth of women in future health sciences careers and to equip learners for making informed career choices. The day also acknowledged women's contribution to the health sciences and society at large.
Article source: UKZN