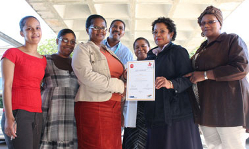 By Candes Keating
CPUT's Bellville Clinic has been recognised for its sterling work in the field of HIV/Aids.
The clinic is one of the best HIV testing centres in the Tygerberg Region and received a Gold Award for from the City of Cape Town.
Student Health Coordinator Andries Slinger says the award is a milestone for the clinic that services thousands of students enrolled at the Bellville Campus.
"We are proud of our achievement," he says.
The clinic, which is manned by a team of dedicated and hardworking nurses, counsellors and administrative staff members, provides free HIV testing and counselling services throughout the academic year to CPUT students.
Slinger says last year they tested a large number of students and also saw a remarkable increase in the number of male students who are signing up for HIV testing.
In addition to providing these free services, Slinger says the Clinic also runs an extensive orientation programme at the start of the year, which focuses on HIV/Aids and other health related issues.
Counsellor Ntombi Mahlanyana, who works closely with students, says the Clinic does its best to provide quality care and services for CPUT students.
Image: TEAMWORK: Staff members of the CPUT Bellville Campus Clinic receives the Gold Star award for HIV/Aids testing from City of Cape Town representative, Edith Mackriel
Article source: CPUT