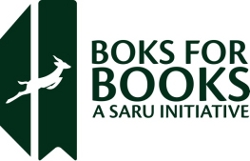 Blue Groove Africa, SARU's partner in the "Boks for Books" Literacy Initiative, has been selected as the beneficiary of proceeds from sales of "I AM LITERACY" bracelets by the The Bead Coalition (Pty) Ltd.
These beautiful bracelets, made from beads in the colours of the rainbow, are currently being created by members of the Beading for Change programme for rural communities in South Africa. The bracelet, which carries the message "Today's reader is tomorrow's leader" emphasises the significance of improved literacy for school learners.
The 'I AM LITERACY' bracelets will be available to purchase at selected CNA stores countrywide, Exclusive Books, Norman Goodfellows and online at www.thebeadco.co.za at a cost of R40.  They will also be distributed for sale at schools across South Africa.
The "Boks for Books" initiative is SARU's first venture into CSI and was born of a desire to make a significant contribution to South African society by supplying fully stocked mobile or refurbished libraries to previously disadvantaged schools around the country.
CEO of The Bead Coalition, Joanne Lapin-Thorpe said: "Our relationship with Signet Licensing and SARU led us to Blue Groove Africa and Elise Fish, who took my breath away with her determination to do-good outlook. I am deeply passionate about the causes and projects supported by sales from our bracelet."
Lapin-Thorpe continued: "Our product must support a direct and tangible initiative that makes sense to the local and international consumer. The beautiful 'I AM LITERACY' hand-beaded bracelet ticks all the right boxes."
Elise Fish, Managing Director of Blue Groove Africa, thanked the Bead Coalition for their contribution to "Boks for Books".
"The partnership with Bead Coalition is almost surreal. Having been in the NPO field for the past ten years, my fellow directors and I made a decision last year to focus our energies on the provision of libraries and media centres to deserving schools in South Africa," said Fish.
"The mission of Blue Groove Africa is to provide the building blocks for education and our goal is to populate a minimum of 200 libraries by 2020.
"When we heard that our organisation had been chosen as a beneficiary of the literacy bracelet, we were both humbled and elated that our dream to provide the much needed infrastructure would be greatly assisted by this association.
"Having recently been engaged by SARU to facilitate their 'Boks for Books' campaign, which is set to provide 23 libraries a year, our personal aim of 200 libraries has been given an incredible boost.
"Together with SARU and the fundraising which will be supported by the literacy bracelet, the impetus for all role players has been greatly boosted.
"As an organisation, this association has set us on a path that we were inspired to tread by a comment which was made by former President Nelson Mandela when he said 'Education is the most powerful weapon which you can use to change the world'."
Fish concluded by thanking Bead Coalition for providing Blue Groove Africa with this incredible opportunity to do good.
"We would like to encourage as many people as possible to purchase a literacy bracelet and assist us in providing one of the most fundamental rights, which is education, to the children of South Africa," Fish said.