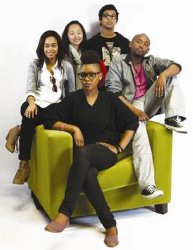 By Naledi Hlefane
The
Durban University of Technology
won six
Excellence Awards at the 2012
Marketing, Advancement and Communication in Education
(MACE) Conference, held from 10 to 12 October 2012 in Cape Town.
MACE unites
marketing
, advancement and communication practitioners from
Higher Education (HE)
and
Further Education and Training (FET)
sectors in South Africa. The conference promotes competence, networking and partnerships as well as advancement in marketing and communication departments within higher education.
Alan Khan, Senior Director of Corporate Affairs at DUT attended the conference and awards ceremony. He was accompanied by four staff members within the Division together with Rowan Gatfield, who is a lecturer in the department of Visual Communication Design and the Creative Director of Workspace.
Khan said,"I was quietly confident that
DUT
would be recognised by our peers and the judges as we have been very focused on implementing a new marketing strategy this year. Winning six awards was fantastic but ultimately, my main objective is to improve the brand perception of
DUT
and to help the
University
reach its goals in the next five years. MACE gave us an opportunity to measure ourselves against the other players in
South African Higher Education.
So, winning six awards against that backdrop was a motivational boost for the team, who were often called to defend the validity and viability of the new strategy this year." Khan added, "I am also extremely proud that
DUT
was the only university in
South Africa
that hired its own students to design a formal marketing campaign. Workspace, which is a
Work Integrated Learning programme
in the
Faculty of Arts and Design
, deserve a lot of credit for their design skills, talent and commitment. The judges complimented us for backing our own students!"
DUT
Vice-Chancellor and Principal, Professor Ahmed Bawa, on hearing of this "amazing" achievement paid tribute to the team. "They worked feverishly over the last year or so to make this an extraordinary achievement. This has been a memorable year in helping
DUT
to reposition itself as a university of choice for many thousands of young South Africans. As
DUT
embarks on a number of large transformatory projects, such as its Student-Centredness Project and it's defining Curriculum Renewal Project, it does so in an integrated fashion. This is so exciting," Prof Bawa said.
The
MACE Excellence Awards
gives recognition to universities and colleges that set the tone in the field of
marketing
,
communications
and fundraising. The "
Siyazama Project Magazine
" won under External Publications and "The Edge," a DUT magazine that will be launched soon, won under Internal Publications. The
Department of Visual Communication Design's BTech
and MTech Sheet won under Special Publications. The fourth prize was awarded to the University in the form of a software development prize to the value of R25 000 – for the highest overall mark in this category. This was awarded for The Edge magazine design. In the Advertising category, the
DUT Marketing Campaign
won under Integrated Advertising Campaign while the Branding Award went to the DUT Invotech branding campaign.
First picture:
The Workspace team. From left: Candy Belcher, Wendy Yang, Yoshen Nair, Agrippa Hlophe and S'ne Mthethwa.
Second picture:
The proud Corporate Affairs team who attended the MACE Conference and brought home six Excellence Awards. From left: Rowan Gatfield; DUT Visual Communication Design Lecturer and Workspace Creative Director, Alan Khan; Senior Director of Corporate Affairs at DUT, Portia Redmond; Design Studio Manager, Rodney Maharaj; Student Recruitment Manager, Thobile Myeni; Communications Department Administrative Assistant and Bonga Twala; DUT Printing Department Manager
Article sourced from:
http://www.dut.ac.za/node/2486