No more books, pens, and paper notes in class! Students in the Dental Assisting Programme which is part of the Faculty of Health and Environmental Sciences took the leap to full e-learning on this year – first of its kind in South Africa.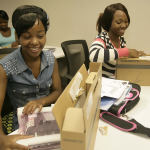 "We are very excited to move forward with the university agenda to go green. CUT has urged us to commit ourselves to sustainable development and this year we took the leap and moved to the blended-learning approach" stated the department head of Life Sciences, Professor Annabel Fossey. She continued that the aim was to have the entire dental assisting programme computer-driven in 2014, and to get rid of paper in the classroom on campus and off campus.
Looking beyond the university drive to go green, e-learning materials are cheaper, and makes it possible to prescribe necessary modern learning resources that is available to students 24/7; in so doing staying at the cutting edge with the curriculum offered. The move is also in line with the institutional undertaking to utilise an innovative and technologically advanced teaching methodology.
The full-time and part-time dental assisting students received a notebook and e-learning materials as prescribed for the programme. The Dental Assisting Programme is the first programme at the institution to take the big step forward in modernising the training of dental assisting students in the faculty.
"To the best of our knowledge, the action of going green in teaching and learning is the first of its kind in any dental programme in South Africa. The department was able to take this leap because CUT's campus buildings are now equipped with Wi-Fi." said Prof. Linda De Jager, Dean of the Faculty of Health and Environmental Sciences.
Article issued by Central University of Technology