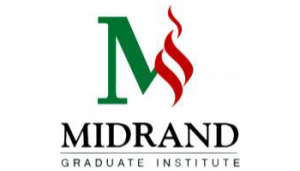 Bachelor of Science in Biotechnology Management (Food Specialisation)
Duration
Full-time undergraduate degree programmes are offered over a minimum period of three years.
Description
"
Biology
is likely to become the greatest single driver of the global economy."
It has become part of the accepted wisdom to say that the 20
th
century was the century of physics and the 21st century will be the century of
biology
. The South African government has committed itself to the vision of making South Africa one of the top 10 nations in the world in terms of the pharmaceutical, nutraceutical, flavour, fragrance and biopesticide industries by 2018. In order to achieve these goals, South Africa needs scientists, business people and entrepreneurs trained in the field of
biotechnology
.
MGI's
BSc in Biotechnology Management
degree is grounded in a fundamental body of molecular
biology
knowledge in both a medical and an agricultural setting. The purpose of the programme is to help meet future human resource needs by training qualified scientists and scientific entrepreneurs.
Students will gain knowledge in
molecular biology
and its applications and will develop an understanding of the fundamentals of project management. Graduates will be able to work as members of a team, collect, analyse, and present information, use
technology
or other methods of presentation for communication purposes, identify and suggest possible solutions to problems, and organise work requirements to meet deadlines. They will understand the world as a set of related systems by recognising that problemsolving contexts do not exist in isolation.
Qualification structure
The syllabus comprises three levels:
Level 1
Students are introduced to the basic principles of
biotechnology
.


Science Skills


Principles of Biology


Quantitative Techniques


Introduction to Chemistry


Maths for Science Students


Plant and Animal Diversity/ Human & Social Biology


Biotechnology/ Health Communication


Project Management


Computer Skills


Physics for Science Students


Applied Chemistry


Bioentrepreneurship


Level 2
Students develop an intermediate level of knowledge and skills in the field.


Introduction to Microbiology


Molecular Biology


Biopharmaceutical Marketing


Economic Botany


Food and Water Microbiology


Plant Propagation/ Nutraceuticals & Functional Foods


Food Technology


Personal Selling and Sales Management


Plant Physiology


Agricultural Economics


Job shadowing a scientific representative


Level 3


Intellectual Property and GMPs


Medical Biotechnology and Criminalistics


Industrial and Environmental Biotechnology


Operations Management


Enzyme and Analytical Chemistry


Agricultural Biotechnology


Internship


Students who successfully complete all levels of study are awarded the Midrand Graduate Institute Bachelor of Science in Biotechnology degree.
Career options


Plant, agricultural, waste management, food industries


Laboratory Technician


Production Technician


Technical Sales Representative


Scientific Communication Officer


For more info
Midrand Graduate Institute
T: +27 (0)11 690 1700
[email protected]
Search for more courses