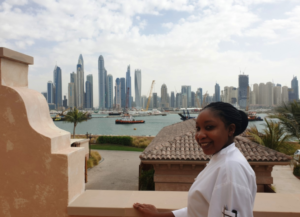 The Private Hotel School (TPHS) is looking for the two best hospitalians in South Africa, and, when they find him or her, the reward will be a year-long bursary for each to study a Certificate in Hospitality Management for 2021 at this renowned institution. One will be based at the school's Stellenbosch-based campus and another at their campus in Rosebank, Johannesburg.
Entering couldn't be easier. All you have to do is follow these simple steps:


Upload the following on Instagram - a photo of yourself in front of a tourist site/ hotel/ resort/ landmark where you would like to work. You can either submit a real photo of the actual experience or photo edit yourself in the environment. If these two options can't be done, you can submit a photo of the hotel/ site on its own.


Use the following hashtag: #MyGlobalCareer


Submit a paragraph of not more than 30 words on why you would like to work in hospitality or why you want to study at The Private Hotel School.


Fill in your contact details.


Ten finalists will then be invited to either the Stellenbosch or the Johannesburg campus for a lucky draw, with one finalist per campus winning a bursary to study a Certificate in Hospitality Management for 2021.
In addition, all 10 finalists will win a hospitality experience which may be a high tea, a dinner for four, a weekend getaway or a mid-week break to a resort.
The competition closes on December 10 with the lucky draw taking place on January 30, 2021. Winners of the bursaries will commence with their studies in March, 2021.
For further details and full Ts and Cs, go to
https://www.privatehotelschool.com/myglobalcareer


Hospitality is one of the fastest growing employment industries providing global career opportunities. At The Private Hotel School you will become a true hospitalian, combining expert knowledge and skills with an entrepreneurial mindset to elevate you to industry-leader status. TPHS prepares you for work across various functions from concierge to top-level management positions, organising world-class events, even opening your own restaurant or hotel. In 2023 there will be 337 million jobs available in the hospitality industry making the opportunities endless.
Established in 2006, The Private Hotel School is registered with the Department of Higher Education and Training and accredited by the American Hospitality Academy – International Hotel Management Schools (AHA-IHMS) and are also registered with, and an approved centre for, the international City & Guilds Group.