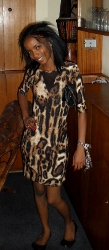 Boston Media House student, Merafe Thaganyane-Saku is making her mark at television channel e.tv and is not letting anything stand in the way of her achieving success.  The young intern has grasped the opportunity to master all aspects of television production with both hands – taking advice and learning as much as she can from her more experienced colleagues.
'I had volunteered at the NGO side of an advertising agency's before, but as an intern you are pushed much more – expectations are greater and you have to work hard to prove yourself,' says Merafe. She adds however that everyone at e.tv was very helpful and friendly which made it easier to adapt and fit in.
Merafe grew up in a small village near Kuruman in the Northern Cape.  Her friends suggested she apply to Boston Media House. She was keen to try the college as she had the impression that most people who went to Boston did well and were successful. She first chose to study Graphic Design but then later changed to Media with the view of specialising in marketing.
'The way the course is structured worked very well.  In the first year you are exposed to all subjects so that you get a feel for the industry and then in second year you can choose which direction you want to go in and then specialise in your final year,' explains Merafe.
According to Merafe the course is very practical and hands on in order to prepare you well for the 'real world' of media. Guest lecturers who work in the industry provide useful insight into how the industry operates and what you need to do in order to succeed. The Boston lecturers have industry experience and also provide the guidance, help and mentoring that is needed by students.
This helped a lot when she landed the internship at e.tv in Technical Operations working on several programmes including Sunrise, Prime Time News, Great Expectations, Maggs on Media, Eshibobo and Outside Eye.
Despite being new to the industry, Merafe said she felt well prepared both from a theoretical and practical point of view thanks to her studies at Boston.
During her internship, Merafe was fortunate to be exposed to all aspects and worked as everything from camera controller where she learnt to set up, operate and clean a camera to on-air graphics, which involved generating graphics for onscreen credits and straps.  She also worked as a Floor Manager where she was in control of the whole floor.
'Being a Floor Manager was quite a challenge for me as I am quite a shy person and in this position it was up to me to tell everyone, including very experienced presenters, what to do' comments Merafe.
She says that the television industry is a tough environment – the hours are long and when you start out you get the worst shifts but you have to be prepared to work hard, take initiative and prove that you are willing to learn in order to further your career.
'A level of maturity is definitely required.  You have to know when to keep quiet and listen and not come across as over-confident.  You also have to be professional and when you make a mistake, admit it and learn by taking advice and guidance from others.'
She adds that being disciplined about lectures and completing assignments on time really helped prepare her for the reality and responsibility of the real working environment where you have to arrive for every shift on time and embrace every activity that comes your way– there is no missing a shift and thinking you can make it up another day.
Merafe has now completed her internship and has been appointed as a permanent staff member for eNCA.  'It is very exciting but also nerve-wrecking as I am now working in the live environment so there is no room for error. The presenters rely on you to get them through the programme, but I am up to the challenge,' she says.
For the immediate future, Merafe plans to carry on working on the technical side of television but hopes to ultimately move onto the marketing side.
For more information on Boston City Campus or visit their website www.boston.co.za