"Born to achieve" says Tinashe Matambo
"I consider myself a talented, focused and goal-driven young man. I held leadership positions at high school and this humble beginning made me the person I am today," says Tinashe Matambo.
Zimbawean born, Matambo is the first ACCA SA student ever to be awarded a prestigious ACCA Simpson Scholarship.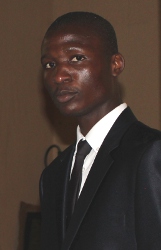 Currently enrolled for BTech Internal Auditing at Cape Peninsula University of Technology, he is very proud of the fact that he has been awarded the Academic Giant Award and the Dean's Merit Award for the past three years. Aside from his academic achievements, he plays chess and represents Cape Peninsula University of Technology at tournaments.
Matambo has always dreamt of becoming a professional accountant: "I have always admired the career progression of many influential business leaders. The accounting profession has become more competitive and demanding. Professional qualifications and skills are now required. With the ACCA qualification, I have thrust myself into the ranks of global accountancy professionals."
His mother is his source of inspiration: "My mother is the preeminent person in my life. She instilled good values in me, including a strong work ethic. She always made sure that even with her meagre means of survival I had enough money for tuition, books, and school supplies. Under her guidance, and driven by an intense curiosity and a desire to know the unknown, and a relentless pursuit of my goals, I strive to be resourceful."
Strength, courage, perseverance, confidence, determination and God's grace have also, contributed to his personal success.
Matambo admires people who invest in the success of others; he also admires people, who are innovative thinkers, and people, who have a desire to assist those less fortunate than themself: "I greatly respect Nelson Mandela and Joshua Nkomo's exemplary leadership. However, I am primarily intrigued by successful business leaders."
Role models include, Amazon.com founder, Jeff Bezos, Allan Gray Limited founder, Allan Gray, and Econet Wireless founder, and Chairman, Strive Masiyiwa: "I adore these great business leaders and I see the ACCA Qualification as creating the entrepreneurs of the future and tomorrow's business leaders. This is something I aspire to."
He urges young South Africans to be humble, keen to learn, ambitious, self-motivated and focused: "I have learnt that the decisions I make today determine my future. I have seen some of my peers lose their lives to disease, drugs and alcohol abuse. I have abstained from actions, which could lead to my demise.
Young South Africans should involve themselves in sports, reading and philanthropy. Apple Inc. Co-founder, Steve Jobs reminds us that since time is limited, we should not waste it by living someone else's life. Do not be trapped by dogma and allow the noise of someone else's opinion drown your inner voice," Matambo concludes.
Article issued by: ACCA