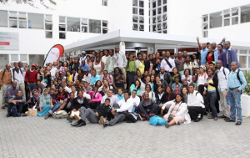 The (TSiBA) in Cape Town is known as one of the key organisations in South Africa that play a crucial role in nurturing future generations of business leaders. YBL visited their Pinelands campus recently to find out more. 
In a nutshell, TSiBA is a unique business school for young leaders and creative thinkers who are focused on business and entrepreneurship. It was founded in 2004 as a non profit tertiary institution for people who are unable to access education opportunities and has to objective to prepare them for careers with either a  (CPBA), A  (HCBA) or a  (BBA).
We asked brand manager Linda Brash why TSiBA is considered unique.
'Although full-time students are sponsored and not expected to pay monetarily for their fees, they are expected to what we call Pay it Forward by mentoring and transferring knowledge they gained at TSiBA to their communities,' she says. 'It is in this way that TSiBA can realise its vision of igniting further opportunities through its Ignition Centre in Pinelands and at its rural campus , situated in the southern Cape community of Karatara.'
TSiBA Eden is unique in that it focuses on offering a green entrepreneurial bridging and skills development programme that serves rural communities in the Southern Cape and beyond.
One student whose vision is to help those less fortunate than her is Cindy Krawe, a former student and BBA graduate who is now the co-ordinator of community training courses that form part of the Ignition Centre. This initiative was started in 2007 and is a training hub that reaches out to jobs seekers and aspiring entrepreneurs in the community without financial means.
The Ignition Centre offers specialised training courses, mentorship programmes, networking opportunities, access to business networks, office infrastructure and business tools to assist them kick start their businesses.
'I noticed an overwhelming number of unemployed people in my community and decided to do something about it,' Krawe says enthusiastically. 'From the research I conducted, some of the reasons for the high numbers of unemployment were due to the fact that people didn't have job finding skills.'
According to Krawe many of unemployed people don't know how to use a computer, type out a CV or create a good impression of themselves during interviews: 'Our mission is to be an innovative mentoring community that develops confident entrepreneurs who earn sustainable livelihoods, create jobs and drive economic and social prosperity.'
Peter Kraan, apart form being the Ignition Centre's manager, is a successful businessman and entrepreneur who is passionate and dedicated to supporting aspiring entrepreneurs. He developed a unique entrepreneurship support model that integrates all the elements needed to build a sustainable and thriving business.
'I have been able to assist many people struggling to get their businesses financially viable, including a gentleman in his 50s who contacted me in desperation having spent the past five years trying to get his engineering company off the ground,' he says. 
Kraan recalls how he made the man, who was struggling emotionally, view his business from a totally different perspective and make the necessary changes for growth: 'This is the reason why I get up in the morning.'
Since its inception, TSiBA has awarded over 760 full-time tuition scholarships to students who would otherwise have been unable to pay for their education and has developed over 200 enterprises on a pro-bono basis through the Ignition Centre, including successful entrepreneurs like,  which has grown from one to 18 Internet cafes in townships around Cape Town.
TSiBA has also produced three graduates who have been awarded the prestigious  in order to pursue further studies.
By Cathy Dippnall
Article source: