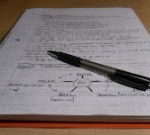 Think of the all the wasted paper you compile over the course of a semester. Between notes for class, term papers, and clunky textbooks, you're practically carrying the weight of the forest in your book bag.
This semester, try a new approach: Study greener.
Want to be a better student and help the environment at the same time? Try these simple steps, like using digital options for popular study methods or cutting back on your electricity use, to become a green student.
1. Submit homework online
Ask professors if you can submit your homework and papers online to cut down on paper usage. Suggest that professors take advantage of to make reviewing and adding notes easy. Unlike Microsoft Word's review setting, Google Docs allows you to save everything in the same document, so you don't have to worry about saving multiple versions of the same document on your computer.
If professors insist you hand in hard copies of your work, see if you can turn it in on double-sided paper instead.
2. Unplug devices from outlets
It's easy to leave a laptop plug in the outlet 24/7, only removing it when you need to move to a new study location. Often, students leave the plug in the wall without the laptop even attached. Instead of leaving the plug there to suck out electric juice and not charge anything on the other end, remove it from the outlet. You'll save electricity—and if you're paying your own bills, you'll cut down on monthly costs.
3.  Use online flashcards
Love testing your knowledge of key terms and concepts? Instead of buying a pack of index cards to study for one exam, try digital flashcards instead. You'll cut back on your paper consumption, and you'll also have assurance that you'll never misplace your cards. Lots of companies promise you can bring the digital cards with you anywhere—if you have a smartphone or laptop—and study wherever is convenient. Check out to see what works for you.
4.  Recycle old notes and handouts
How many of those class handouts do you really need to hang onto? Once the assignment, exam, or class has finished, head to the nearest recycling bin and dump them all in. If you're worried about losing important info, make digital copies of all your materials. Many college libraries have scanners available for student use or you could take photos of important handouts on your phone.
5.  Carry a reusable water bottle or thermos
Bottled water creates about 1.5 million tons of plastic waste each year. By carrying a reusable bottle, you'll cut down on your own carbon footprint and stay hydrated in your study nook. Having your own bottle or thermos will also save you money.Find a trendy reusable bottle or thermos online, or show some school pride and get one from the campus bookstore.
6.  Let in natural light
When it's sunny outside, give your library or dorm room study sessions an outdoorsy feel. Sit near the window and open the curtains or blinds as much as you can so you can keep the overhead lights turned off. All the natural light helps you cut down on your energy consumption. The extra sun exposure will also help with your Vitamin D intake, which promotes bone health and boosts your immune function, and even
Bonus: All that natural light is also great for growing plants. Put your green thumb to the test and liven up your dorm room!
7. Say no to traditional textbooks
A traditional textbook weighs anywhere from 200-600g—filled with cover-to-cover paper, which many students only browse. Rather than let hundreds of pages a semester go to waste sitting on your desk, switch to digital versions to save paper and focus on the class material you actually need.
Article source:
Article adapted by SAstudy.co.za