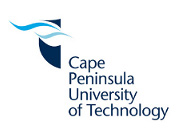 There are a limited number of spaces still available in the first year Interior Design Course for 2014.
The course fuses elements of architecture and industrial design into a unique offering and graduates are able to work across a multitude of creative industries including shop fitting, furniture manufacturing and for architectural and interior decorating companies.
Since Cape Town was selected as World Design Capital for 2014 job opportunities have exploded in these fields and graduates of CPUT's Interior Design course will be well positioned to take full advantage of everything on offer.
Some of the tasks of an Interior Designer include creating bespoke designs, project management and conceptualising new looks for shops.
Former CPUT graduates are working for a variety of well-known retailers and are employed at some of the top design studios in the country. Students in this course have also won a variety of competitions where they compete against other international institutions and even working professionals.
Students work in a lively studio environment where the cross pollination of ideas ensures a well-rounded individual who lives and breathes all elements of design.
The course also offers a foundation phase that is an option to anyone who first wants to be introduced to Industrial Design before committing to a three year diploma specialising in it.
What is Interior Design all about?
* A select number of courses are accepting late applications for the 2014 academic year, view these courses here.
To visit the CPUT website click here.