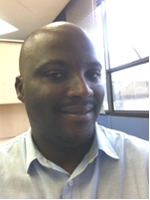 We're very excited about this brand new line of specific job interviews we'll be showcasing on SAstudy.co.za! If you have an interest or would like to know more about a potential future career, please let us know and we'll try our best to find a great representative out there to interview!
Name: Colson Mothoagae

Job Title: Digital Media Strategy in Johannesburg
Years of Experience: 12 years in the digital marketing field
How did you come to work in this field (or industry or position)?
I was recommended by my lecturer to a manager at Ananzi.co.za who has studied the same course at the same university I was studying at.
What career path did you take to get where you are?
I studied Library and Information Sciences at the University of Pretoria. One of my modules was about online and the internet. I then started my career at Ananzi as the search engine administrator, and then later moved on to selling advertising space on the Ananzi search engine.
What are your duties and responsibilities?
Interpreting and understating client's marketing brief and coming up with online media campaigns that would help achieve those objectives.
What is a typical day like for you?
A typical day starts with responding to emails from clients and media owners / publishers. I would then need to do research and reading to keep abreast of developments. Sitting in briefing sessions, writing strategy, planning campaigns, buying media and doing post campaign analysis all forms part of my typical day.
What do you see as the pros and cons of this type of work?
It keeps one on their toes as online is a medium where things happen and change quickly.
What are the qualifications and educational requirements for this type of work?
Media and Marketing with some focus on digital. After finishing my Library and Information sciences degree and working for a couple of years, I completed a BCom Marketing Management Degree through Unisa.
What factors would make one fail or succeed in this type of work?
A lack of attention to detail and lack of learning as things change quickly would definitely contribute to failing in this type of industry.
What is your supervisor's job title?
Head of Digital.
What challenges are currently faced by you (or your department of organization)?
A shortage of skilled people.
What potential is there within this field for self-employment, a home-based business, owning your own business or part-time work?
There is always potential, one just needs to find the gap!
Do you ever utilize interns in your office? If so, what is the nature of the responsibility of the interns?
Yes, HR has a formal program for them for the year.
Can you recommend any websites related to your field or industry?
Bizcommunity, Memeburn, Mashable, eMarketer.
Can you recommend any area employment agencies, newspapers, etc. that post job openings for your career field or industry?
RecruitDigital, Memejobs, Bizcommunity, New Media Talent, AdTalent.
Do you want us to tell your career story? Email us: [email protected]