FINANCIAL ASSISTANCE- SCHOLARSHIP PROGRAM
As the Ruth Prowse School of Art is committed to being an art centre for the whole community, an extensive scholarship program has been put in place. It is the mission of the school to redress the educational imbalances of the past by nurturing young talent for the future who do not have the financial resources. The School aims to fulfil the educational equity targets by the provision of financial assistance. The financial support provides for full, substantive and partial tuition fees. This support can be for the full duration of three-year programme to deserving students from previously disadvantaged communities. In addition, the school sources funding to assist with materials for students in financial need. Students are required to re-apply annually but renewal of financial assistance is solely dependent on good class attendance and an average marks percentage of above 65%. The applicants are interviewed by the Scholarship Committee of the Board of Directors. In addition, substantive and partial financial support is made available for students of academic merit in financial need.
Should a Scholarship student fail or discontinue their studies, then 50% of the Scholarship Award will be required to be repaid within 3 months.
First year applicants need to submit before their formal application for acceptance and second and third year students by the 30th September annually. An Application Form needs to be submitted. Please note that all fields in the form need to be completed.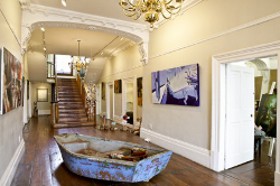 Back to Ruth Prowse School of Art