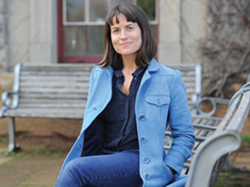 A UCT-led study that will look into what it means to be HIV positive and part of the 'born free' generation has been honoured with a prestigious scientific grant award from the International Aids Society (IAS). The study, led by UCT postdoctoral fellow Dr Rebecca Hodes, looks to improve adolescents' access to antiretroviral treatment and reproductive healthcare in South Africa.
Hodes, a medical historian, left Cape Town for Kuala Lumpur, Malaysia, will be attending the IAS Conference at which her successful application will be formally acknowledged.
According to UNICEF, South Africa has the world's largest population of HIV-positive adolescents: 292 000 in 2011.
Hodes notes that the limited research with HIV-positive adolescents in sub-Saharan Africa identifies complex experiences relating to their HIV status, ART adherence and sexual health. In particular, she explains, teenagers report challenges with disclosing HIV status, stigma, peer interactions, romantic relationships, school transitions, and the negotiation of gender and family roles, often in care giving arrangements characterized by parental death and illness
"One key aim of (our) project will be to work together with HIV-positive adolescents to develop recommendations for supporting (antiretroviral therapy) adherence and access to sexual and reproductive health services. We will work closely with HIV-positive teenagers to design youth-friendly support tools, and will pilot these in clinics and support groups," says Hodes
Her collaborators include academics from UCT and Oxford University, UNICEF and government officials and members of NGO's as well as community-based organisations.
The project will be based in the Eastern Cape and run over two years starting in 2014.
For her the grant provides "an opportunity to work together with a remarkable team of collaborators and to immerse myself in the many challenges that attend to the antiretroviral treatment rollout – one of the greatest public health interventions in history".
"These awards are an important recognition of the work being undertaken by promising scientists," said Professor Françoise Barré-Sinoussi, IAS President and IAS 2013 International Chair. "Supporting up and coming researchers in the HIV field is a vital part of the IAS' effort to respond to the HIV epidemic."
Article source: University of Cape Town