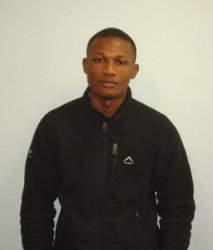 By Naledi Hlefane
Mthobisi Dlamini, a DUT alumnus who completed his studies at the University's Industrial Engineering Department last year, put his name, as well as that of the institution, on the mark when he was recently named one of two winners of the 2013 SAIIE Student Competition.
The national SAIIE Student Competition is run by the South African Institute of Industrial Engineers with the aim of recognising the contribution of student work to the field of industrial engineering. Industrial engineering students who are in their final year at university submit documents detailing projects which they embarked on as part of their academic work; these are then judged on the basis of how they contribute to solving industry challenges.
A debut run this year, the challenge is intended to hold annually henceforth.
The two winners presented their work on Tuesday, July 9, 2013 at the 25th Annual SAIIE Conference, which took place in Cape Town until the 11th of July.
On winning this challenge, Dlamini said: "I am honored to receive this recognition; this achievement reflects not just an individual effort, growth or strength. It means I am equipped with skills and knowledge to make a difference in industry and I am proud." He added that his recognition is indicative of the high level of the DUT Industrial Engineering Department's curriculum.
Dlamini's winning project, entitled "Coping with complexity variation in the mixed model assembly line", focuses on the challenges involved in modern day mixed model assembly lines.
"Generating the optimal production schedule for a mixed model assembly line, which will balance the workload in all the production stages, is a difficult task considering a variety of practical constraints. Varying customer demand is also an important factor to be considered when designing an assembly line. The emphasis of this project was to develop appropriate methods and solutions needed to be able to cope with complexity variation challenges in the models assembly line. The problems that caused the challenges were found to be the actual differences between the product's design, product architecture, number of parts and number of common parts," Dlamini said.
He reckons this topic is relevant to current automotive and original equipment manufacturer (OEM) industry challenges.
Supervising Dlamini on his project was Andrew Naicker, the Head of DUT's Industrial Engineering Department. He said although the DUT alumnus' project was complex and required a fair amount of work which needed to be delivered at a high level of competence, his final product was "well-written, comprehensive and self-explanatory".
A former student of his, Naicker described Dlamini as an "above-average student who showed enthusiasm towards his studies and chosen career path".
Dlamini is currently employed as a Logistics Planner at Mercedes Benz South Africa, Eastern Cape. He is also pursuing his BTech qualification at another university.
Article source: DUT