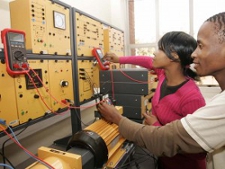 Engineering Council of South Africa confirms what we at CUT already know – our Engineering and IT programmes are first rate! 
CUT's Engineering Diplomas and BTech degrees have achieved accreditation from Engineering Council of South Africa which is amongst the most respected accreditation bodies in South Africa.  It is a statutory body that was established in terms of the Engineering Profession Act of 2000.
The Council has provides leadership through rigorous quality assurance processes and demanding standards that are widely accepted within higher education sector and professional bodies. The accreditation of CUT's engineering programmes is the culmination of the Strategic Transformation of Educational Programmes and Structures (STEPS) process at CUT that began in 2010.
This development is widely welcomed by the university leadership, staff and students alike. According to the Vice-Chancellor and Principal, Prof. Thandwa Mthembu this is not surprising given the hard work that everyone at this university has put in the last several years. As he emphasized, "this process has enabled us to identify our strengths and weaknesses in curricula, research, innovation and other educational processes; thus permitting us to re-shape our education and training."
Prof. Henk de Jager, Deputy Vice Chancellor: Academic, was equally enthralled by the developments. As he put it, "knowing the engineering fraternity and the low success rate of programme accreditation by ECSA over the past few years, this is indeed an outstanding achievement for CUT and the best outcome by a university of technology for years."
A third-year student of Mechanical Engineering was beside herself at hearing the news. When asked what this means to her she said, "I'm on top of the world. Who knows where I will practice as a engineer now with my qualification – Johannesburg, Dubai, London or New York!"
Article source: CUT