We are not an institution so please contact the
relevant institution directly for course information.
Register Here
FOR ALL THE LATEST OFFERS
AND SPECIALS NOW
Register
What are you looking for?
WINNER OF MANDY ROSSOUW SCHOLARSHIP TELLS MORE ABOUT HERSELF
Winner of Mandy Rossouw Scholarship tells more about herself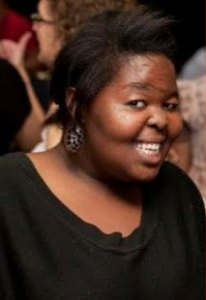 S'thembile Cele (22) is the first recipient of the Mandy Rossouw Scholarship. (Read press release). This energetic radio presenter at MFM, self-confessed lover of books and avid rugby fan took some time off from her hectic schedule as a BPhil (Journalism) student to share what makes her tick…
Tell us more about the person S'thembile Cele: place of birth, growing up, schooling, family, etc
I was born and bred in a small sleepy town on the South Coast of KZN. I was at school there all of my life with pretty much all of the same people. It's one of those places where everyone knows everyone and everyone else's business! I'm on of three girls in my family; I think I have a mild case of middle child syndrome. But despite what that implies – about being neglected and such – I am very much a daddy's girl. Because of him I have an unrelenting passion for cars and people. My mother was quite the sporting fanatic when I was younger so I enjoy watching some rugga and occasionally some cricket and soccer. I'm Zulu – which I like to claim means that I have a royal blood line, I do not – but I speak English and Afrikaans, and some Xhosa. I like communicating with people so languages are important to me.
Why did you choose Stellenbosch to further your studies? What does a degree from SU mean to you?
Stellenbosch, kind of chose me. My options to study were limited after high school because of a lack of funds. I was offered a recruitment bursary, so at the time I took it as a sign. A Stellenbosch degree means that I know a little bit more about wine and it's the place where I met some of my closest friends.
Share some of your memorable experiences as a student – how are you finding the whole Maties experience?
Great parties, the security of roaming the streets until the early hours of the morning unharmed, and one of the most challenging periods of my life. Being away from home – far away – being thrust into a different culture, which has not always been welcoming. Despite that, I have been able to take a hold of many unbelievable opportunities. I have acquired invaluable skills that I will carry forever. I've grown as a person and I see the world in a very different way now. I've worked with amazing people who just want to change the world if it the last thing they do. It's altogether exhausting and inspiring to watch and be involved in.
What would you tell people about the University?
It is a complex environment. There are too many dimensions that can only be fully understood once you have been here. You can either walk out of here having had a good education and a great party or a good education and being stretched further than you think is possible. The latter is no small feat, but richly rewarding.
You have some pretty big shoes to fill…What does it mean to you to be the first recipient of the Mandy Roussouw Scholarship?
It is a huge honour. Just being afforded the chance to do this course this year, is huge for me, it's unbelievable. Having this scholarship, it a whole new ball game, it's like having greatness thrust upon you. I have been in contact with people, who other people in the industry dream of meeting. They have all been incredibly humble and supportive. I'm well aware that I have a huge advantage going into the working world. I still get giddy when I think about it. I worry that I might not be able to do this chance justice. It's a lot of pressure. But it's a responsibility that I will gladly take on, over and over again. I have the chance to set a precedent for amazing other young women that are going to come after me that will stand head to head with people like Mandy Rossouw. It's exciting. It is unbelievable. It's hugely sentimental.
What is your driving force or motivation for what you do?
My daddy,  who is everything that I hope to be. Who has taught me everything I know about loving people and fighting for what is right. He has worked tirelessly so that I can have everything my heart desires that he can give me. He gave me a love for reading and a curiosity for life. Apart from that I remain a stubborn idealist who just cannot rest until all is right with the world.
Who is S'thembile when she is not a student? Any interesting hobbies; how do you let your hair down?
A high maintenance friend who is up for adventures constantly. I have a great passion for all genres of music. I am a radio presenter. I'm a fiercely competitive 30 seconds player. I love different cultures and languages and the arts.
If you could offer any advice to students/young professionals out there, what would it be?
Forget about the overly qualified, super rich, ridiculously outspoken person next to you, who looks like they have it made. "Success is liking yourself, liking what you do, and liking how you do it."
Describe yourself in three words:
Tenacious. Passionate. Unpredictable
Article issued by Stellenbosch University
Facebook Comments
Follow us On