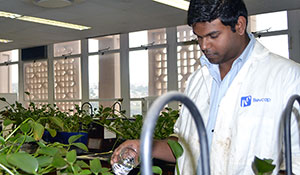 PhD Student, Mr Kamleshan Pillay, has won a prestigious Chevening Scholarship enabling him to read for an Mphil in Environmental Policy at Wolfson College which is a constituent college of the University of Cambridge in England.
Pillay, a student in the Discipline of Geography in the School of Agricultural, Earth and Environmental Sciences, was also selected as the African Union (AU) Energy and Climate representative at the recent Y8 Summit held in London earlier this year. He is the first South African to have achieved this and was one of only seven AU representatives invited.
'I'm not nervous or overwrought with emotion at all – instead I'm filled with great enthusiasm to be undertaking this opportunity,' said Pillay.
Chevening Scholarships are the United Kingdom government's global scholarship programme funded through the  and other partners. The programme makes scholarship awards to outstanding scholars who also exhibit great leadership potential from around the world to study postgraduate courses at universities in the UK.
The Chevening Scholarship programme was established in 1983 and has developed into a prestigious international scheme. Chevening Scholars come from at least 118 countries worldwide.
The Mphil which Pillay has been described as both diverse and challenging with candidates engaging in a wide variety of study areas related to environmental policy issues including environmental economics, environmental law, climate change policy, urban and environmental planning, rural environment environmental policy assessment and evaluation.
Pillay views this opportunity as the perfect platform for him to continue his quest to acquire a keener awareness of the policy behind environmental politics.
'So many great politicians and scientists have attended Cambridge, and in terms of the goals I have set for myself to make a genuine difference in terms of my field, I believe this to be the ideal place for me to be at present. I hope to return well-rounded with a more awakened understanding of my research area.'
Article issued by