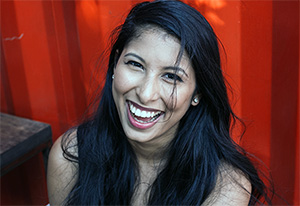 Being awarded the prestigious South Africa at Large 2014 Rhodes Scholarship allows Law student Ms Seham Areff (22) to study towards her Bachelor of Civil Law and Masters in Global Governance and Diplomacy at the University of Oxford in England for two years.
Areff, who receives her LLB degree during a Graduation ceremony later this month, is currently exploring her interests in human rights and South Africa's constitution by working as a clerk for Mr Justice Johann van der Westhuizen in the Constitutional Court of South Africa – the highest court in the country.
Areff says she hopes to use the Rhodes Scholarship to realise her long term goal of contributing towards isolating the legal and political mechanisms to successful post-conflict state-building with a specific focus on constitution-drafting in developing countries.
'I have always been keenly interested in human rights and South Africa's constitution. Learning more about the constitution-drafting process and the practical implementation of our bill of rights was my main motivation for studying Law. I have just been accepted at Oxford to study for a Bachelor of Civil Law which I will do for the first year before my masters,' she said.
Areff's other academic achievements include graduating cum laude with a Bachelor of Arts majoring in Political Science and Legal Studies in 2012. She has also competed in numerous domestic and international debating competitions including the  Global Debate and Public Policy Challenge Budapest Forum last year where she debated the policy choices of Digital Freedom and Its Limits.
Passionate about debating, she recently represented UKZN at the All Africa Moot Competition in Cape Town which focused on human rights law on the African continent.
'I've always been a debater, I did debating throughout high school so the idea of having a career based on delivering a logical argument was always an attractive and fitting one,' said Areff.
Dean and Head of the School of Law, Professor Managay Reddi expressed her delight and immense pride in Areff and her outstanding achievement.
'The School of Law is delighted with Ms Areff's success in winning a Rhodes Scholarship. Her achievement typifies the opportunities that are available to high-performing students who are keen to enjoy every opportunity that comes their way,' said Reddi.
Article issued by UKZN