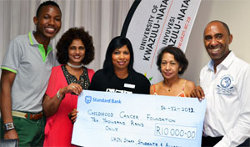 The UKZN's annual cake sale in support of National Cancer Awareness Month raised R20 000 in 2012. The cake sale is an annual event that sees Corporate Relations rally staff, students and alumni to join the larger South African community in supporting those organisations that work in the fields of cancer treatment and support.
This year, again, cupcakes were sold on all the five campuses. Corporate Relations Division handed over the funds that were raised to two very deserving organisations on December 14. The Cancer Association of South Africa (CANSA) and Childhood Cancer Foundation (CHOC) each received a donation of R10 000.
At the cheque handover, Director of University Relations and Marketing, Mr Len Mzimela reiterated UKZN's commitment as a socially responsive institution that is committed to inspiring greatness in all possible areas of our society.
Both the organisations were ecstatic for receiving the donations and tanked UKZN's staff, students and alumni for the contribution. Ms Agie Govender from CHOC said, "The donations will make a huge difference to our programme and help us better serve the children in both Durban and Pietermaritzburg". 
CANSA's Ms Vanitha Naidoo and Ms Linda Cipolla were equally overjoyed and mentioned that the donation will assist in the building of their new Cancer Care Home which will be open in February 2013. The care home will be used to house cancer patients coming to Durban for treatment appointments and check-ups. 
Article source: