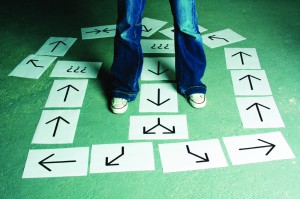 Author: Nosibusiso Tshetu
Nosibusiso describes the challenges of early experiences of her first year at university…
So I enter this large, dark room – it is supposed to be my lecture room. It is so terrifying, large and spacious. Classrooms were never this big in high school. This could be the school's hall or something. So here I am with a bunch of other students waiting for the lecturer to come and get on with her or his work.
I can't help but worry; what if I don't understand anything here? I can't afford to fail. This was not my idea of university; isn't university supposed to be this beautiful place with a calming effect? More and more students enter and it is becoming fuller by the minute. Surely a plan will be made for the others, I think to myself as I watch them from the front row seat. Surely the others will be going to the next lecture room or won't they? No, they won't!
Suddenly I have an assignment to finish and hand in in less than a week and I know that there are still many more to go. I just don't think it's productive or possible anymore. My friend keeps on saying "that's academic life for you," and the thought of this happening the whole of this year makes my stomach churn.
I think I should be used to more confusion by now. It's all so unpleasant and so stupid. How can they expect us to work like robots? How can I complete more than three assignments in plus or minus two weeks? To tell you the truth, I'm so drained. All is happening too fast for me, I miss high school more and more. There I had my always-understanding teachers and their sometimes harsh but motivating words, and our assignments were given for during the holidays, due only a week after the schools open.
Oh forgive me I did not introduce myself. I'm a girl from one of the townships of Khayelitsha and I am in my first year at UWC. It is everyone's dream to reach where I am today. So I am kind of pressured by the elders and fellow peers when I go to study at tertiary. I have become sort of a role model for everyone. So just imagine how many people would be disappointed if I quit or even get pregnant at my age.
The old lady from next door would say as she always says: "Abantwana banamhlanje! Abanambulelo walamathuba bawafumanayo!" (Kids of today are so ungrateful of the opportunities they are given), and my strict uncle from the Eastern Cape who is as strong as a steel, if you know what I mean, would say, "Ufuna ukukhutshwa lowo! endaweni yokuba afunde uza nentshontsho!" (That one wants to be kicked out! Instead of studying she comes with a baby). And then my other uncle asks, "Yintoni enzima ekufundeni? Ukufunda nje into oyifundiswayo?" (What's so hard in studying, when you're studying what you are taught?)
So I quickly ask myself so as to justify my 'evil' thoughts of failure: are all those people giving me advice here right now? Do they know how it's like to feel this stupid and hopeless? I don't think so.
But then again I have to strive no matter what, I mean, no one forced me to come here. I decided on my own free will, I made my own choice. No one tried to change my mind as they too were thrilled at how eager I was to study and succeed.
So here I am. A troubled soul sometimes wishing to let go, but my mom's encouraging words always crawl back in my mind as I get over my anxieties. University life! This is it, this is what I signed up for. Knowingly or unknowingly.
*****
Advice to my younger self:
I know that to succeed, one has to go through all sorts of obstacles. That's when you learn to appreciate and embrace all the things you get at the end of it all. Never fear, never give up, your journey is your story and your motivation to reach greater heights.
This article was written as part of FundZa's "Transition Stories" series.