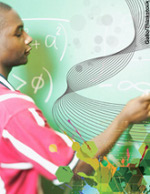 Would you love to study something in the financial industry and get that "CA" behind your name? If you have the brains and determination, look into a Thuthuka bursary.
If you're a black or coloured student with a strong academic background keen on pursuing chartered accountancy, this bursary may be for you. Every year, 50 B.Com students from each of the universities of Kwazulu-Natal, Johannesburg, Stellenbosch, Pretoria, Cape Town, Free State and the Nelson Mandela Metro are chosen to be part of the Thuthuka Bursary Programme, run by the South African Institute of Chartered Accountants (SAICA).
To even think about applying, you need to be very good at maths, qualify for university entrance plus do well in all your subjects for Matric. Preference is given to candidates with limited financial resources. If you are selected to receive this bursary, you will be placed on the Thuthuka Bursary Programme, which oversees your studies and is dedicated to seeing you qualify as a CA.
Results + Effort + Intelligence + Hard work = Success!
Applications are open to candidates:
• Who are black or coloured
• Who had at least 60 percent for maths (not maths literacy) for Grade 11 (SAICA recommends excellent English results too)
• Who earn enough points for university entrance
• Whose family can't support your studies financially
If you are interested, request an application form via SAICA's contact centre: 086 107 2422 or email [email protected].co.za. For more information, check out www.saica.co.za.
For further information contact:
The Thuthuka Bursary Fund
PO Box 59875
Kengray
2100
The road to qualifying as a CA
Merely getting a B.Com doesn't make you a CA. You then need to complete your Certificate in the Theory of Accounting (CTA), which takes at least a year and focuses on financial management, taxation, auditing and accounting. Once you have your CTA, you are eligible to enter into a three-year learnership with a registered training office (RTO) (to specialise in auditing) or an approved training organisation (ATO) (to specialise in financial management).
Did you know! "Thuthuka" is a Zulu word that means "to develop".
Article: Standard Bank