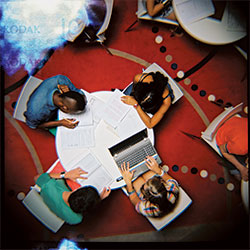 Roughly three hundred years ago Daniel Defoe wrote that there are only two things certain in life, death and taxes. But that's only because he didn't know about the success that comes with a BCompt degree.
The links between a successful career and chartered accountancy are drummed into many of us. But, success doesn't come easily and you'll need to get some top-shelf training first. It's a tough programme and you need to be sure that you're ambitious, can pay attention to detail and that you can process a lot of data quickly and accurately.
If you think that this is for you, well then there is very good news in store for you. Just like death and taxes, accountancy is an inevitable part of life. And because of the highly specialised sort that you can provide with this degree you'll be in high demand. On top of this, because of the complexity of high finance, accounting and auditing, the financial rewards are high.
You might have also heard that it can be a bit of a dull route to take. After all, when you think of auditing, excitement might not be the first thing that comes to mind. But this isn't necessarily true. You'll deal with many different companies, travel and it's a great start to working in any large organisation. Many CFOs, CEOs and Chairpersons have started from such a degree.
Varsity College is a brand of the Independent Institute of Education (IIE), our interactive learning environments and blended learning approach encourage you to formulate arguments and express your opinions. Our collaborative approach to education welcomes you to actively participate in your studies, engage with subject material, build understanding and develop your ability to think critically.
The Independent Institute of Education (The IIE) BCompt degree is conferred at Varsity College campuses. In addition, Varsity College offers tuition support for qualifications conferred by the University of the Free Sate (UFS), and IMM Graduate Institute of Marketing (IMM GSM) and has academic partnerships with international institutions such as The Open University (OU) from United Kingdom and International College of Hotel Management (ICHM).
If you're interested in the BCompt degree, or you'd like to inquire about other programmes available to you, contact Varsity College or visit the Varsity College website at www.varsitycollege.co.za.