We are not an institution so please contact the
relevant institution directly for course information.
Register Here
FOR ALL THE LATEST OFFERS
AND SPECIALS NOW
Register
What are you looking for?
STUDENT REPRESENTS SA IN RUSSIA
Student represents SA in Russia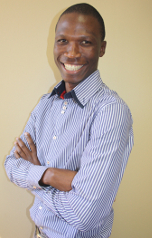 On Youth Day (16 June), Ndivhuho Tshikovhi (26), a master's degree student in Entrepreneurship at the Tshwane University of Technology, travelled to St Petersburg in Russia to represent South Africa at the Y20 Summit 2013. Ndivhuho is one of only five South African students selected to attend the event, to be held from 18 to 21 June.
The Youth Summit will bring together the brightest young people from the G20 countries to discuss issues closely elated to the topics of the G20 Leaders' Summit. It includes topics such as financial and international monetary systems and sustainable development.
To Ndivhuho, chairperson of the Capital City Junior Business Chamber (CCBC Jnr), these topics are quite familiar. He also serves on the Department of People Management and Development's Advisory Committee and is a research assistant to Prof Mokubung Nkomo, acting Deputy Vice-Chancellor of Postgraduate Studies, Research and Innovation.
"As young boys, growing up without really much to think about or do, all of us wanted to become doctors or lawyers. But in my case these dreams were shattered by not being all that good with mathematical subjects and not having enough role models to look up to," says Ndivhuho.
"My entire world changed when I managed to sneak into TUT with my poor matric results. It motivated me to work hard and to be employed one day."
"My mentors at the Faculty of Management Sciences taught me that the sky is not the limit. I am especially grateful to Althea Mvula (my academic mom and a lecturer at the Department of Management and Entrepreneurship), Dr Richard Shambare (lecturer at the Department of Management and Entrepreneurship), Yvonne Senne (Head of the Department of Management and Entrepreneurship) and Dr Edgar Nesamvuni (Executive Dean of the Faculty of Management Sciences).They introduced me to student structures such as Students in Free Enterprise (SIFE), which is now called Enactus."
Ndivhuho adds that his dream opportunity would also not have been possible without the support of Dr Stanley Mukhola, acting Deputy Vice-Chancellor of Teaching, Learning and Technology, who is sponsoring his trip.
"The Youth Summit will enable me to get my voice heard in a communique the other four South African delegates and I will compile after the summit."
"This really makes me feel that I'm making a difference. I also hope that it encourages my fellow students to believe that 'Black child, it is possible!'"
Article issued by TUT
Facebook Comments