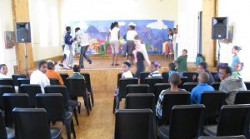 A group of staff members at Stellenbosch University's (SU) computer user areas HUMARGA, FHARGA and NARGA recently rolled up their sleeves, showed they care and lent a hand at Raithby Primary school.
According to Ms Cheryl Cornelissen, senior administrative officer at HUMARGA, their staff wanted to use the money that are normally spent on year-end parties to do some good in the community.  "We contacted Ms Michelle Pietersen of Matie Community Service (MCS), who identified a school with specific needs (Raithby Primary). We went to assess the needs, got the necessary quotes and then proceeded to set up a budget. Because the project was so big, we also involved NARGA and FHARGA," she explains.
Raithby Primary, with its 140 pupils and three teachers, now boasts 100 new chairs for its school hall, paint and tiling in the boys and girls toilets which was done with the help of a contractor, clean classrooms, a new coat of paint and murals.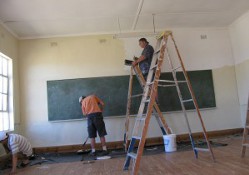 The project was a huge success, says Ms Cornelissen. She says the 15 staff members and their families, the three teachers of the school, the two SU students and three MCS staff members got to know each other better and tackled all the work on the day (1 December 2012) as a team. Parents and learners also turned up in large numbers to help. There was a jumping castle and face painting to keep the youngsters busy, and in between all the hard work there were hotdogs, ice cream, music and soccer.
According to Ms Cornelissen, the school previously had to hire chairs for the annual Grade 7 fashion show, but with the 100 new chairs it no longer has to spend that money.
Mr Attie Olivier, principal of Raithby Primary, says they're very happy and grateful for the work that was done at the school. He says the collaboration and interaction between everyone who came to help was very positive. According to Mr Olivier, the SU team's timing was perfect and the revamped school hall has already been used. "We had a fashion show yesterday (Tuesday), on Thursday we'll have our annual prize-giving ceremony and on Saturday the senior citizens of the community will have their concert in the hall."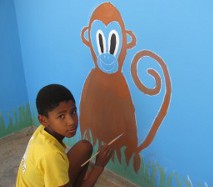 For Ms Cornelissen and her collegaue Nomusa Hlongwa, this outreach initiative also meant a lot. They say the smiles on the learners' faces and the lump in the throat of the principal when MCS did the message of thanks at the end, made each one of them realise that they have contributed to the needs of a community and touched every child's life with a positive attitude and motivation. Cornelissen adds that in future, HUMARGA would also like to pay attention to the school's computer area.
Article source: