We are not an institution so please contact the
relevant institution directly for course information.
Register Here
FOR ALL THE LATEST OFFERS
AND SPECIALS NOW
Register
What are you looking for?
SOCIAL CHANGE AS SEEN BY THE PEOPLE
Social change as seen by the people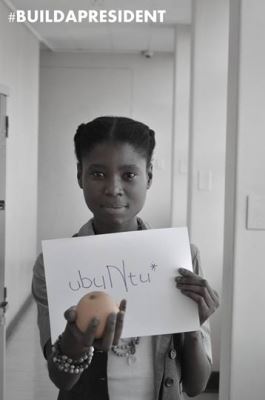 A social media campaign by the Wits Drama for Life project has rapidly been gathering followers since its inception earlier this year.
The Build-a-president Facebook page, which has more than 2000 likes or followers already since it was created at the end of April, has generated overwhelming support and great excitement. The project was started as a Mandela Day project, inspired by the legacy of former President Nelson Mandela.
The social change project, the brainchild of Hamish Neill, Drama for Life Project Manager and Drama for Life alumni, working with photographer Evans Mathibe, was modelled on the ever popular Humans of New York Facebook page, with a Johannesburg/South African relevance.
Build-a-president is a social change project that seeks to ask pertinent questions about democracy, constitutional building, active and responsible citizenship; such as "How we can enhance the role of democratic leadership among all youth?" and "How can we foster generations of youth to live the legacy of Nelson Mandela?". Build-a-president asks how we, as citizen leaders, can respond to critical questions about human rights and social justice in the fields of health, development, education, arts and culture.
The project's foundation exists through social media in relation to Drama for Life community engagement and social responsibility projects that live on the streets, in cities and villages, community spaces, schools, colleges and universities.
Followers answer the questions asked about social concerns by responding with slogans, or black-and-white photographs taken of them expressing their views on a poster.
Warren Nebe, Director of the Drama for Life programme at Wits, says the project has been conceptualised with a long-term lifespan in mind, and will tie in directly with activities on Mandela Day, celebrated annually on 18 July and other activities planned by Drama for Life for the year ahead.
"Our eventual goal is to use this space to help generate further dialogue when working on further projects. We will use this space for the training of 220 Grade 11 students in Diversity Studies in June; for the upcoming SA Season that focuses on the theme More equal than others; Wits' celebration of 20 years of democracy; the annual Sex Actually festival; Women's Day celebrations; and discussions and events around mental health care and transformation, to name a few," says Nebe.
For more information on the Build-a-president project, contact [email protected] or [email protected] or visit the page.
Article issued by University of Witwatersrand. To view their profile on SAstudy, click here.
Facebook Comments