We are not an institution so please contact the
relevant institution directly for course information.
Register Here
FOR ALL THE LATEST OFFERS
AND SPECIALS NOW
Register
What are you looking for?
REGISTRATION STILL OPEN AT MILPARK AND A CHANCE TO WIN A BURSARY
Registration still open at Milpark and a chance to win a bursary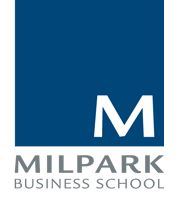 Milpark Business School, private provider of tertiary qualifications in business and commerce, is launching two new qualifications in 2013: a Bachelor of Commerce (BCom) and a Higher Certificate in Office Administration (H. Cert. in Office Administration).  
The BCom and H. Cert. (Office Administration) are designed to provide school-leavers with solid qualifications relevant to a wide range of careers in commerce. Adding these to the existing BBA degree contributes to meeting the urgent skills requirements of the South African business sector. 
Milpark Business School also recently launched a competition in which three BCom bursaries are up for grabs. The competition is open to all students who apply for admission and is accepted on the BCom in 2013 and it closes on 25 January 2013.
Another welcome addition to Milpark Business School's 2013 curriculum is the Higher Certificate in Office Administration. This qualification is designed to equip school-leavers with the skills needed to work in a variety of administrative contexts. Matriculants interested in the administration and day-to-day administration of a business will find this qualification the perfect tool to jumpstart their careers.
Students on the Higher Certificate at Milpark will study a range of subjects addressing areas critical to administration including business practice, business law, computing and communication. Milpark Business School also offers candidates a choice from specialised modules that provide more focused knowledge in a particular area of administration, namely financial services, legal, accounting or public sector administration.
Milpark Business School operates from two teaching sites in Johannesburg and Cape Town, and has a sales and support office in Durban. Milpark Business School offers a variety of qualifications from higher certificates at NQF level 5, BCom and BBA degrees, and post-graduate qualifications that include two postgraduate diplomas and an MBA.
For more information on Milpark Business School, go to Click here
Facebook Comments