We are not an institution so please contact the
relevant institution directly for course information.
Register Here
FOR ALL THE LATEST OFFERS
AND SPECIALS NOW
Register
What are you looking for?
PET AWARDS SEVEN SCHOLARSHIPS
PET awards seven scholarships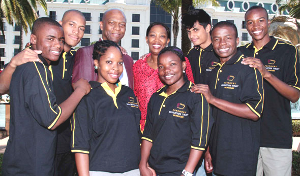 The seven Ekurhuleni youngsters who have been awarded scholarships by the Peermont Education Trust (PET) to further their studies this year visited Emperors Palace on Friday, January 25 where they met with the Trust's chairperson, Tshidi Madima and one of the Trustees, Vusi Zwane for a mentoring session. Here the students, in the front, Sandile Ndlangisa, Tumishang Makibelo, Palesa Khanye and Phumlane Zwane and at the back, Thabang Maepa, Lennon Naidoo and Ramosebetsi Keele are pictured on their arrival with Zwane and Madima. (Photograph by Yolanda van der Stoep)
This year's recipients of Peermont Education Trust scholarships, Ramosebetsi Keele, Thabang Maepa, Tumishang Makibelo, Lennon Naidoo, Palesa Khanye, Phumlane Zwane and Sandile Ndlangisa celebrated their good fortune at Emperors Palace on Friday, January 25.
The Trust recently announced seven scholarships that were awarded to deserving young people from the Ekurhuleni region. The primary objective of the Trust is to provide deserving matriculants with an opportunity to further their studies. These are young people from mostly township-based schools selected on the basis of their academic performance and career preferences.
In addition to having all their fees and accommodation paid, the young people will be mentored by the Trust Administrator, Jenny Findlay. "This is the critical difference and helps us maintain an 85% pass rate compared with that of the 22% pass rate of universities."
By meeting with the students monthly and conducting workshops on study skills, emotional intelligence and workplace etiquette, the PET scholarship equips young people for their time at university and the world of work. Trustees also meet with students in the board room to motivate them and prepare them for the world of work. In this way they stay in touch with the students and are closely involved in their education.
One of the recipients, Ramosebetsi Keele was the top performer at his school, with 5 distinctions, Tsakane Secondary School and wants to be an accountant one day. Keele applied to the Trust for a scholarship – a past scholarship recipient is from his school. Keele is the child of a single mother and says, "I am very excited about this opportunity and I'm humbled, I am the only one from my school who got funding for tertiary education."
The Peermont Education Trust is one of the BBBEE vehicles created by Emperors Palace and is making a valuable contribution to the local community. Students are encouraged to "plough back" services to their communities and as a result they have been conducting academic support programmes in their respective schools during vacations. Over a hundred young people have been granted full scholarships for tertiary courses.
Article source: SA-The Good News
Facebook Comments