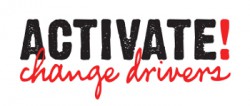 ACTIVATE! Change Drivers, a national network of over 1 000 young people who are committed to tackling the toughest social challenges in their communities and the country, have launched a groundbreaking new campaign, Future Now SA, with the aim of developing a roadmap of actionable, game-changing mechanisms to aid the National Development Plan in supporting the youth of South Africa.
Part of the rationale for developing this plan has been the reality that there remains a sense of uncertainty in the youth sector – a new National Youth Policy is yet to be promulgated, the agencies dedicated to youth development are not experienced as particularly effective, and the public discourse on youth remains primarily that of a 'ticking time bomb'.
Future Now SA aims to change this by crowd sourcing from South African youth, a set of ideas by youth, for youth, that will address and unlock some immediate wins in the context of the NDP's longer term policy and programmatic shifts.
Activators – many of whom run other NGOs and youth projects across the country – are also partnering with organisations such as Live Magazine, InkuluFreeHeid, YouthLab, loveLife, and others to bring as many young people into the process as possible. Our aim is for at least 100 000 young people to have engaged with the process over the next month. For this campaign to gain even greater traction, we are inviting support from youth organisations such as yours to not only reach more youth and collect more ideas, but reinforce the size and power behind the youth voice in this country.
Submissions for ideas are currently open via our website www.futurenowsa.co.za and USSD by dialling *120*4215#. Once submissions close on 02 October 2014, all the data will be collected, discussed and condensed into a 10-Point Action Plan by youth for youth that will be handed over to the National Planning Commission at the end of October. The event will involve both a dialogue process on the plan and a media launch.
We are currently in conversation with the National Planning Commission to discuss both the handing over of the document to the NPC, possible engagement with Commissioners on its content once handed over and the creation of mechanisms through which Activators and other youth can drive the ideas forward over time
We hope that you will see the value in supporting and adding your name to this campaign. Ways that partner organisations may show support is via:
– Submitting your logo to be added onto the Future Now SA website, social media and other Future Now SA communications.
– Encourage your network of youth to add their ideas to the Future Now SA campaign via the website www.futurenowsa.co.za or USSD by dialling *120*4215#
Following the launch of the 10 Point Plan, we are looking to build mechanisms through which our youth can drive the ideas forward over time. We have already sought out a funding partnership to specifically support the continued work on the plan beyond its launch. We will track the extent to which young people are using it as a tool for policy engagement, shifts in media discourse, the sparking of new ideas and initiatives across different sectors.
Article submitted by ACTIVATE! Change Drivers