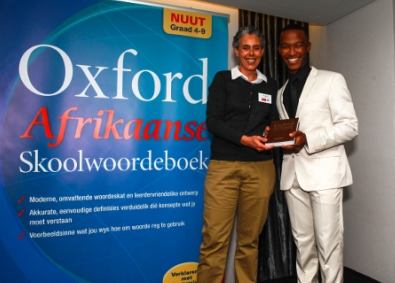 Oxford University Press Southern Africa rewrote the history books on Thursday by launching its first ever verklarende dictionary in Afrikaans – only the third language in which Oxford worldwide has published a monolingual dictionary.
The Oxford Afrikaanse Skoolwoordeboek was unveiled at a glittering Cape Town gala event hosted by Expresso presenter Katlego Maboe. Western Cape Education MEC Donald Grant was also present, along with a host of academics, authors and language specialists within the Afrikaans community.
The event saw Oxford hand over 600 copies of the dictionary to non-profit organisation Foundation for Empowerment through Afrikaans (Stigting vir Bemagtiging deur Afrikaans) for their Read-to-learn project, which focuses on improving reading amongst 10-to-15 year old learners in underprivileged Western Cape schools. Chairperson Dr Dirk Brand accepted the donation on behalf of the Foundation, and echoed the role that a solid literary foundation plays in empowering individuals to achieve success in their schooling careers and beyond: "Books form the foundation of education and dictionaries, in particular, are the keys to unlocking new worlds of knowledge. The SBA will find tremendous benefit in the donation of these dictionaries, which will contribute towards the resources used in our reading and literacy programmes in schools. Oxford University Press' donation is a significant investment in the education of young people and indeed an investment in the future."
Megan Hall, Publishing Manager for Dictionaries at Oxford, provided some insight into what it took to produce the first Afrikaans dictionary developed from scratch in 12 years. "We decided to make this dictionary after the run-away success of our bilingual Afrikaans English dictionary. Talking to teachers around the country helped us to find out what they missed in the dictionaries they were using and what they wanted to see in a new dictionary. It's been almost three years since we started on the project in late 2009, but with a team of 20, with more than 120 years of combined experience in making dictionaries, we've been able to develop a dictionary that is easy to use and modern, while providing the coverage, support and illustrations that learners need."
Chief editor Dr Phillip Louw said it took 33,000 hours to make the dictionary. Apart from the hard work and eye strain, Phillip says he's enjoyed "the modern words and senses (kweekhuiseffek, tik), idioms (gogga maak vir baba bang), the word origins showing the rich history of Afrikaans (not just Dutch and Malay, but Khoi, Irish, IsiXhosa and IsiZulu, Italian, township slang and more), the sporting terms (baannommer, skepskop), the curriculum language key to understanding a range of school subjects (bioom, kansvariasie) and helping learners to distinguish words that often cause mistakes (help/hulp)."
The Oxford Afrikaanse Skoolwoordeboek follows in the footsteps of the award-winning Oxford Afrikaans-Engels English-Afrikaans Bilingual School Dictionary, which in 2008 won a coveted ATKV Word Wise Award – popularly called the Veertjie – in recognition of its contribution to the use of the Afrikaans language among learners, and the academic merit of the work.  The Oxford Afrikaanse Skoolwoordeboek is available in paperback from leading bookshops at a recommended retail price of R109.95.
Ends
Notes to the editor:
Oxford is committed to boosting multilingualism in South African schools through its publications.
Oxford's programme of dictionary publishing in South Africa has been underway since 1978.  It has established a growing list of bilingual dictionaries in many South African languages alongside its best-selling range of English dictionaries. These include the publication of the first series of bilingual dictionaries in all 11 official languages for Grade 2 to 4 learners, an English-IsiXhosa bilingual dictionary  for Grade 8 to 12 learners and so far, three other bilingual dictionaries for Grade 4 to 9 learners, in IsiZulu and English, Afrikaans and English, and Northern Sotho and English. The latter is the winner of a South African Translators' Institute Award for Dictionaries.
 Oxford – The World's Most Trusted Dictionaries
Issued by:           Magna Carta PR
Megan Sonnenberg
021-417-5833
On behalf of:     Oxford University Press SA