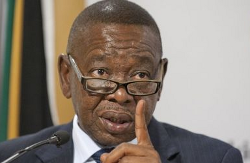 BUSINESSES must provide learnership and internship opportunities for young people from Further Education and Training (FET) colleges, says Higher Education and Training Minister Blade Nzimande.
Speaking at a New Age Business Breakfast on Thursday, Mr Nzimande said while there were 183,893 places for first-year university students this year, the FET college sector had 100,000 places and the Sector Education and Training Authorities (Setas) had 18,000 learnership and internship opportunities.
"We have got very good colleges in this country. Of course, we have weak colleges that we are attending to … and one of the biggest challenges that we have where you can play a role is the placement of these FET college students for practical work experience," he said.
Mr Nzimande said the department had identified 11,000 FET college graduates with critical skills between 2009 and 2011 who needed placement. He said his "one national call" was for South Africa to assist with improving the quality of education at FET colleges, and for business to offer learnerships.
"We are engaging employers now and we are calling upon you, come and take an FET college graduate. Give him or her 12- to 18-month internships … If we can break that and do it this year the negative attitudes towards FET colleges will begin to go away," he said.
Further, Mr Nzimande said it was important for universities to engage with FET colleges to improve the quality of education at these colleges so that graduates could access university.
Earlier in the week, Johannesburg-based skills and training organisation AstroTech Training said businesses and government were not investing enough in developing skills among the youth and graduates to prepare them for the job market.
AstroTech CEO Liza van Wyk said in addition to this businesses were spending money on developing skills that should have been developed during workers' basic or higher education.
"What business is complaining about when people come out of the school system is that they are still not work ready. It is attributed to a number of factors from life skills through to not having the skills needed to be productive right off the bat," Ms van Wyk said.
According to the South African Institute of Race Relations' latest South Africa survey, labour absorption last year was at 41%, up from 40.6% in 2011. However, in 2001 labour absorption was at 45.8%. The number of discouraged work seekers rose to 2.3-million last year from 1.7-million in 2001.
This drop is a sign that more young people are entering the working population, but a smaller proportion of them are actually working, said the institute's research manager, Lucy Holborn.
Ms Holborn on Monday said according to the survey, youth unemployment was still very high, with 52% of 15-to 24-year-olds looking for work.
"The labour market is looking for people who are skilled for the work place. It shows that the supply side is saying the risk of employing the young is too great and they would rather hire someone with skills," Ms Holborn said.
Article source: Business Day Live