We are not an institution so please contact the
relevant institution directly for course information.
Register Here
FOR ALL THE LATEST OFFERS
AND SPECIALS NOW
Register
What are you looking for?
NURSING GRADUATES ENCOURAGED TO SPECIALISE
Nursing graduates encouraged to specialise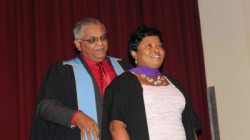 Written by Kwanele Butana
IMAGE: A Nursing Sciences graduate gets capped at this year's nursing graduation ceremony at the Bellville Campus, Cape Peninsula University of Technology
South Africa continues to grapple with a crippling shortage of nurses as the country improves its access to health services for all. Forum of University Nursing Deans of South Africa CEO, Prof Hester Klopper, encouraged CPUT and Western Cape College of Nursing graduates to enroll for specialist nursing education because those scarce skills were crucial to the SA's development.
Klopper was a guest speaker at this year's nursing graduation ceremony which was recently held at the Bellville Campus where about 120 diplomas were conferred.
Klopper told graduates that only 12 905 of the close to 130 000 registered nurses are primary healthcare nurses and that even fewer are pediatric nurses.
"We need to double this figure in order for us to be doing fine," she says.
She added that research has found that there are lower mortality rates in hospitals with nurses who have bachelors and post-graduate degrees. She, however, expressed her delight in seeing new nurses joining the profession as she says that 36 of the 57 countries in the world which need to improve their health services are in Sub-Saharan Africa.
"In the past people died of communicable diseases, but now it's non-communicable diseases," warned Klopper. She ended by encouraging nurses to also understand how the use of technology can impact on their work.
CPUT is a featured institution on SAstudy.co.za, click here for more information on this university and its offerings.
Facebook Comments